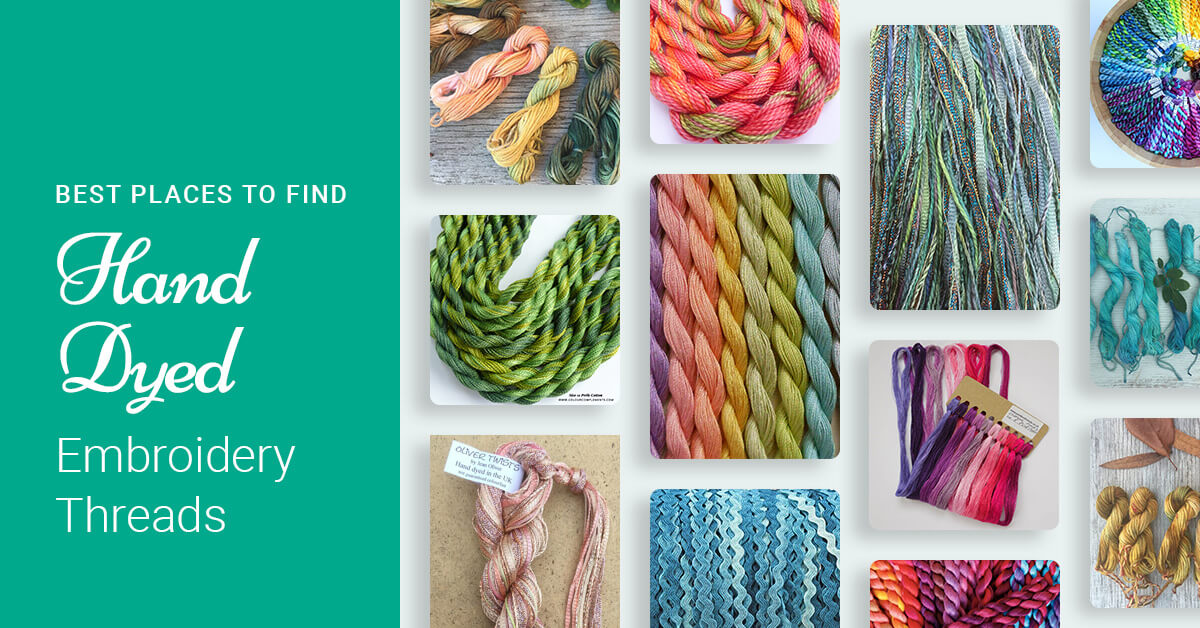 Unlike factory-dyed floss, artisan embroidery threads present a wonderful variation of color tones on every single thread, adding depth and a sort of controlled unpredictability to your project.
If you've ever entertained the thought of trying out hand-dyed cotton or silk, here are a few places you can check out to look at some amazing colors.
1. Colour Complements
Lorraine is a textile/mixed media artist with a focus on various forms of hand embroidery including crazy quilting, stumpwork and canvas work.
She started dyeing her threads a number of years ago from necessity as she lives in an area with limited access to supplies. This seemed a natural progression after years originally painting then dyeing fabric and surface design techniques for quilting.
Lorraine has an exquisite selection of embroidery threads, over-dyed to create stunning colour variations and textures. Her colors are bold and original, sure to spark your creativity.
Here are a few images taken from her shop , featuring some of the various threads she offers:
Perle Cotton and Floss
Perle Cotton is a soft and silky embroidery thread with high luster. It is highly mercerized, non-divisible (meaning you use one thread at a time – no need to split the threads), and on a twisted skein.
Whether you're working on an embroidery or needlepoint project, Lorraine's perle cotton threads will delight you with their unique and vibrant color combinations.
Floche
Floche is a soft fiber. Unlike standard embroidery floss which comes in 6-strand skeins meant to be separated, floche is intended to be used as-is, without separating the threads.
This type of fiber is ideal for more delicate stitches, like the ones used in shadow work or crewel work. This is due to the soft and twisted nature of floche, and the fact that it provides a shiny and smooth coverage.
Rayon Ric Rac

Ric Rac is a zig-zag shaped braided trim, used as a decorative element in many types of sewing, embroidery or quilting projects. Lorraine's multicolor blends are a total pleasure for the eye and make these ribbons an excellent addition to any colourful and vibrant textile art or craft project.
---
For all items in their shop Colour Complements offers international shipping at very affordable flat rates. Be sure to check out Lorraine's website for multicolor awesomeness and some inspiring projects she shares on her blog.
---
2. Amaranthine Stitch
Barbara's flosses open up a whole new world of possibilities whether you like free style embroidery, just like to stitch here and there, or would just like to have a go for the first time!
The variations on the threads create a wonderful painterly effect on any embroidery project as each skein is individually hand dyed with permanent colorfast dye and has its own unique characteristics.
---
3. Oliver Twists
Oliver Twists is in other words Hand Dyed Everything.
This charismatic artisan shop boasts with beautiful colours, gorgeous fibres, embroidery threads, knitting yarns, weaving yarns and fabrics.
Following a City and Guilds in Embroidery and a Diploma in Art and Design (specialising in Textiles and Glass), Oliver Twists was born in 1998.
Even though this shop is located in the UK, they offers capped shipping. This basically means you will never pay more than £3.95 in the UK or £8.50 (appr. $ 10.65) for the Rest of the World.
Oliver Twists are also offering Free Worldwide shipping on orders over £85 (appr. $107) which is applied automatically at the checkout.
---
4. Paint-Box Threads
This cute little Etsy store is the home of artisan hand dyed threads for embroiderers, quilters, fibre artists and crafters.
Zoe is selling a small but truly unique selection of mercerised cotton and pure spun silk, which are so beautiful and versatile. While her cotton and silk threads are very popular among hand sewers, they are also perfectly suitable to be used through sewing machines.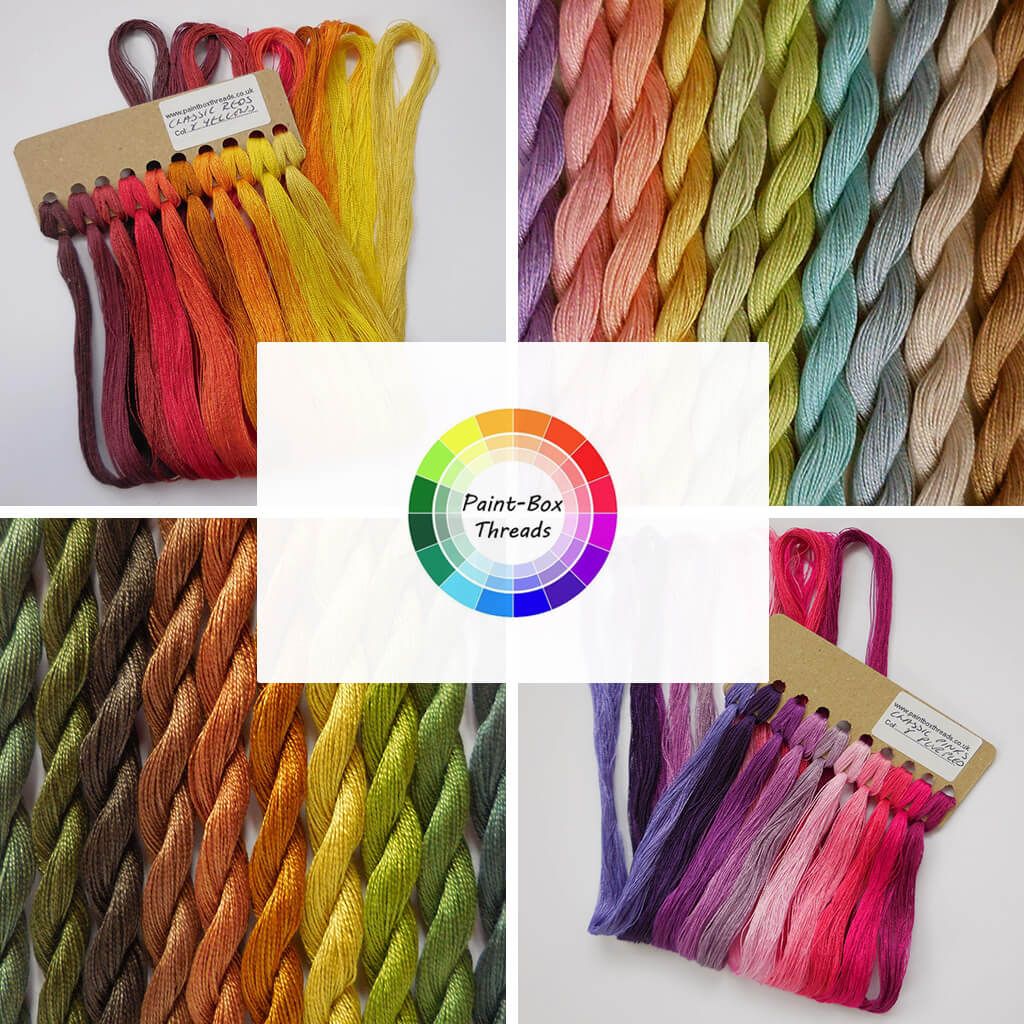 Unlike the previous shops in this post,  Paint-Box Threads mostly sells 'plain' colour skeins, rather than variegated. However, since it has been hand-dyed, the thread has a slight variation along it's length bringing a depth to any textile piece.
So take a look and see if you find something you fancy!
---
5. Tamar Embroideries
Tamar Embroideries is a small family business, based in in the beautiful Tamar Valley in Cornwall, UK.
In their shop you will find a beautiful assortment of fine embroidery floss, fine perle threads, broderie threads, matte cotton threads and cotton twist threads.
Their threads and fabrics are individually hand dyed by Katy Choroszewska to create a range of unique colours and patterns, perfect for hand embroidery, quilting and lace making
---
6. Gilliangladrag
Gillian is the creative director and talented maker behind this stunning UK based shop selling a large number of needlework supplies and accessories.
She has been a textile artist for over 20 years, having been a graphic designer before that.
Aside from her own felting books & kits, she curates a fabulously fluffy selection of highly delectable crafty goodness, pulling together collections of wools, yarns, fibres, haberdashery, buttons, craft kits, books and gifts, from literally all over the world.
---