A perfect gift to anyone who appreciates handmade items.
Meet NORA, our elegantly embroidered, floral drawstring pouch bag. A handmade item, terracotta and yellow flowers with delicate greenery embroidered on petrol green linen canvas. The bag is fully lined, and has a drawstring closure at the top. It has an intricate embroidery on both the front, featuring a gorgeous flower arrangements.
Ideal as an elegant accessory at a special event, but can be a unique gift for the bride or bridesmaids. Alternatively, it's the perfect little bag to hold your jewelry or valuables at home.
NORA is made from high quality, OEKO-TEX® STANDARD materials. The fabrics (both the outer and the lining) have been pre-washed to avoid the running of colors and the shrinking of fabric in future wash cycles. This is a sturdy bag – it feels well made to the touch, it is strong but still light-weight.
All our handbags are designed, embroidered and sewn in our small home studio, and are handmade with love.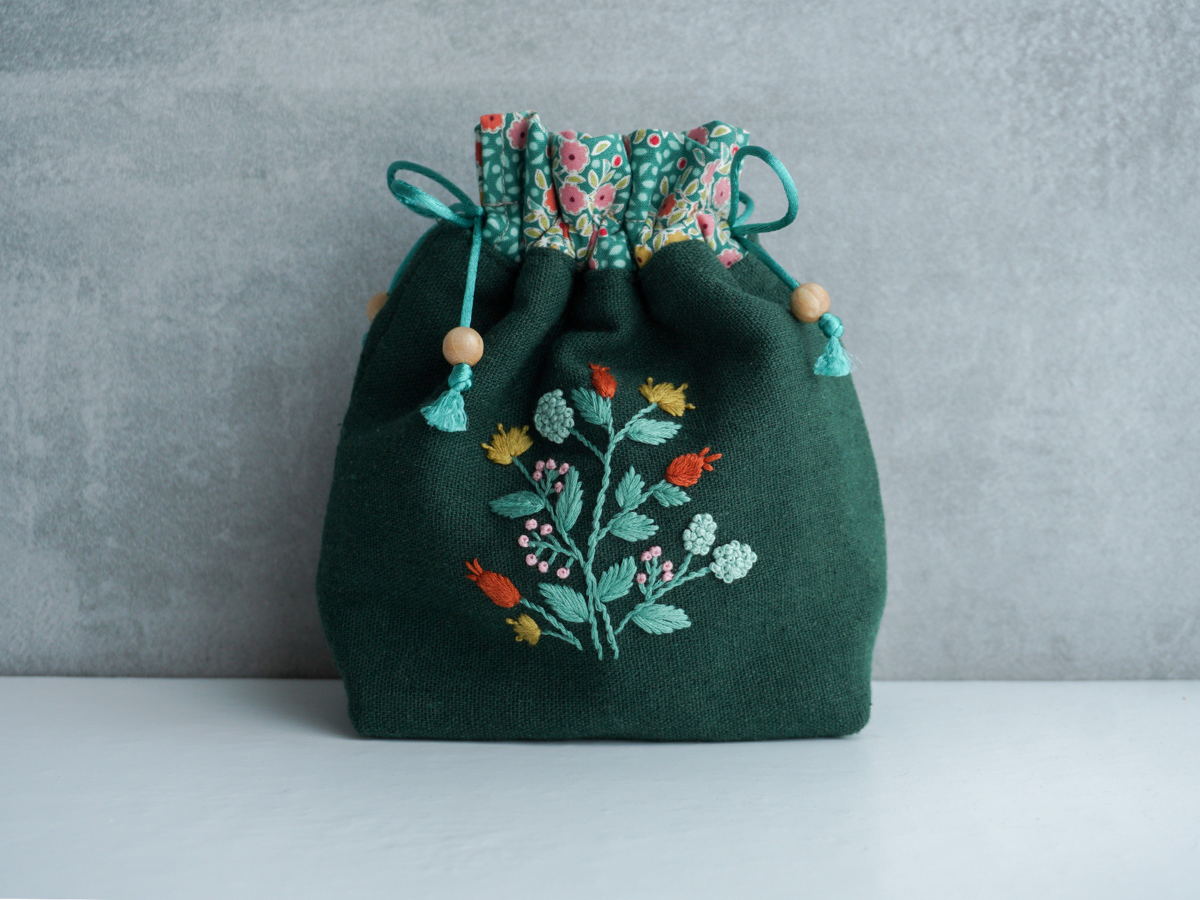 ❥ SIZE GUIDE
This is a small handbag, approximately 4 3/4″ (12cm) wide by 7″ (18cm) tall by 2 3/4″ (7cm) deep. It fits your small toiletry items, pencils, nail polish, lipsticks. It also fits smaller phones and tiny notebooks or journals. It does not fit large phones or cameras.
❥ INVENTORY
We always have one of this item ready to ship from the shop. If you'd like to order more, please get in touch and we will happily create a custom order for you with as many items as you need!
❥ SHIPPING
Please note: the default standard shipping does not include tracking. Only 'tracked' orders are assigned a tracking number, this however comes at an extra cost. Select your preferred shipping method at checkout.
❥ CANCELLATIONS
Cancellations are accepted within 3 hours of purchase.
❥ CARE INSTRUCTIONS
To keep your beautiful bag clean and in good condition, you will need to wash it from time to time. You may hand-wash it with delicate laundry detergents that do not contain bleach. Most often it will be enough to use warm water and soap. Do not tumble dry – lay flat or hang it up to dry. You can iron the bag after it has dried should you need to. Additional care instructions will be included with the packaging.