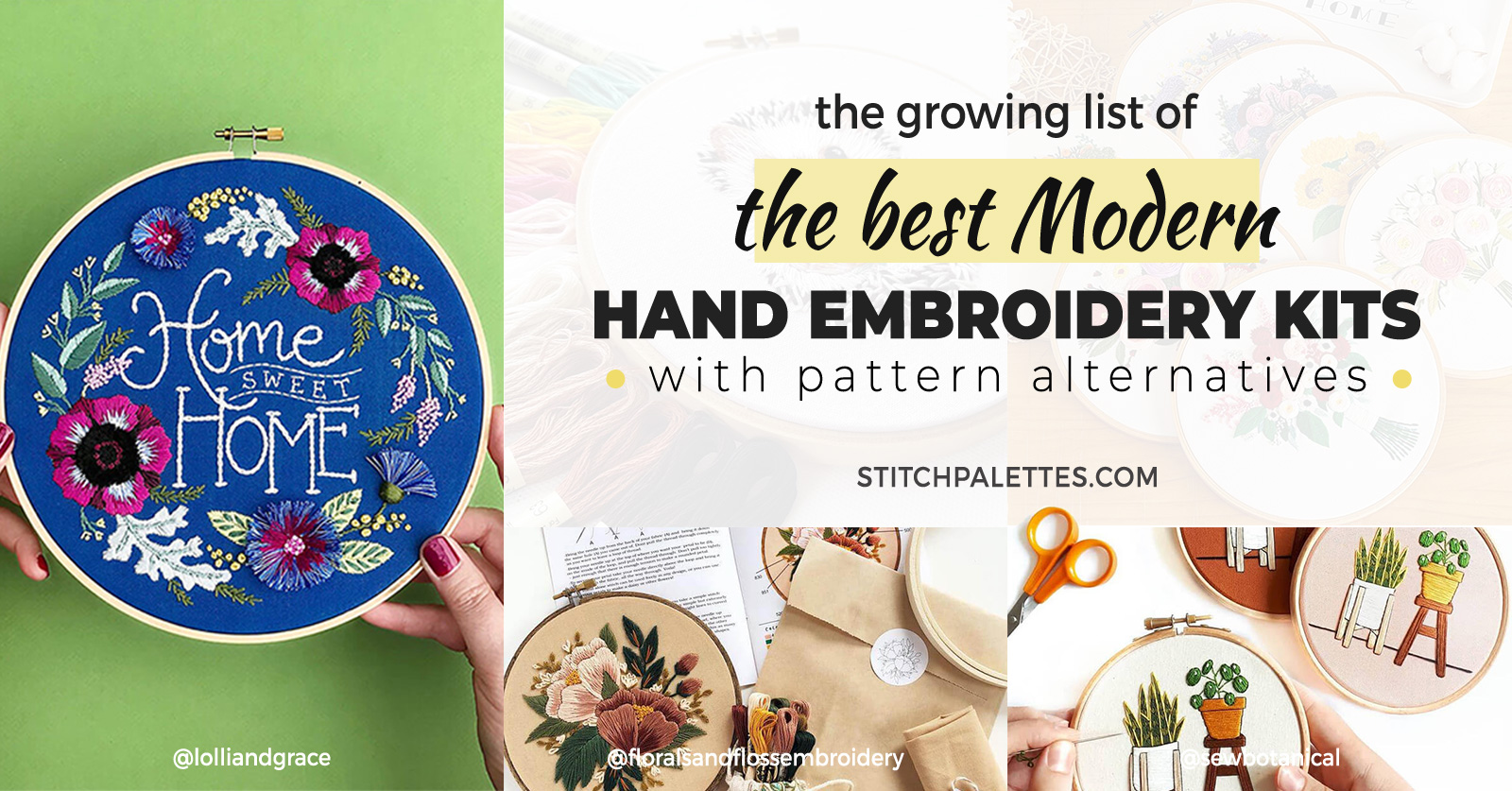 In the last few years the popularity of modern embroidery kits has soared. For people new to hand embroidery it's a fail-safe way to start a new hobby, and create something amazing right off the bat, even with no prior experience in stitching.
The simplicity and convenience of getting a pre-packaged bundle with all the needed materials is what makes these kits so attractive. Let's look at some of the most beautiful embroidery kits available online and where to find them.
Quick disclosure: this post contains affiliate links which means I get a tiny commission if you purchase after clicking. This comes at no extra cost to you and helps me keep this site running by creating new posts & palettes regularly. Thank you for your support.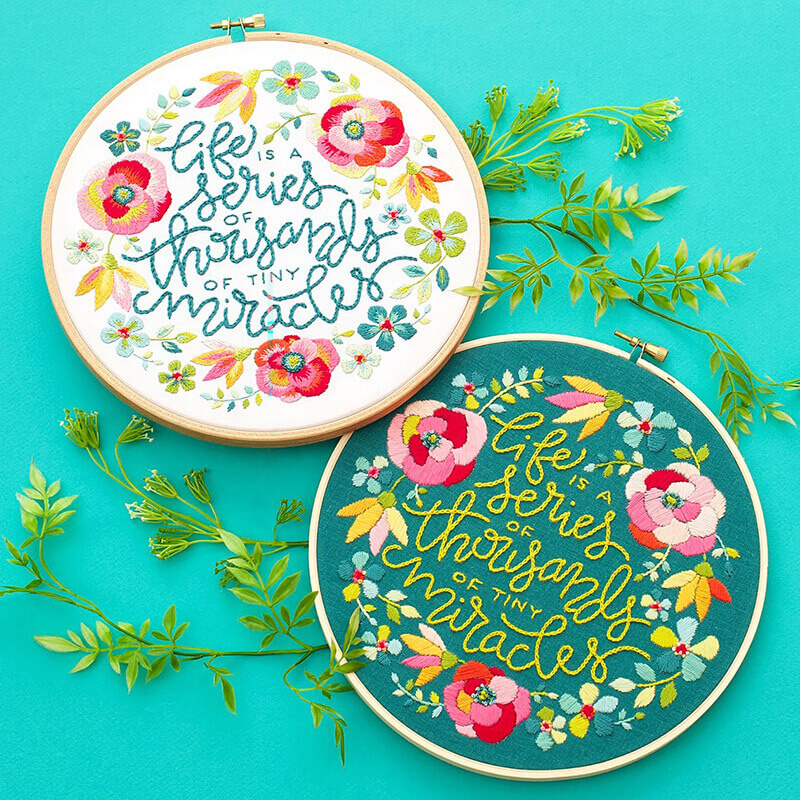 I have been a long time follower of this shop and everything they put out is a color extravaganza! The vibrant tones of this hoop perfectly complement the underlying cheerful message, reading 'Life is a series of thousands of tiny miracles'.
This complete DIY embroidery kit includes everything you need to get started quickly.
What's inside:
Pre-printed cotton fabric
8″ wooden embroidery hoop
Full skeins of DMC embroidery floss in all the colors you'll need
One needle
White felt for hoop backing
Pattern-only alternative available here.
---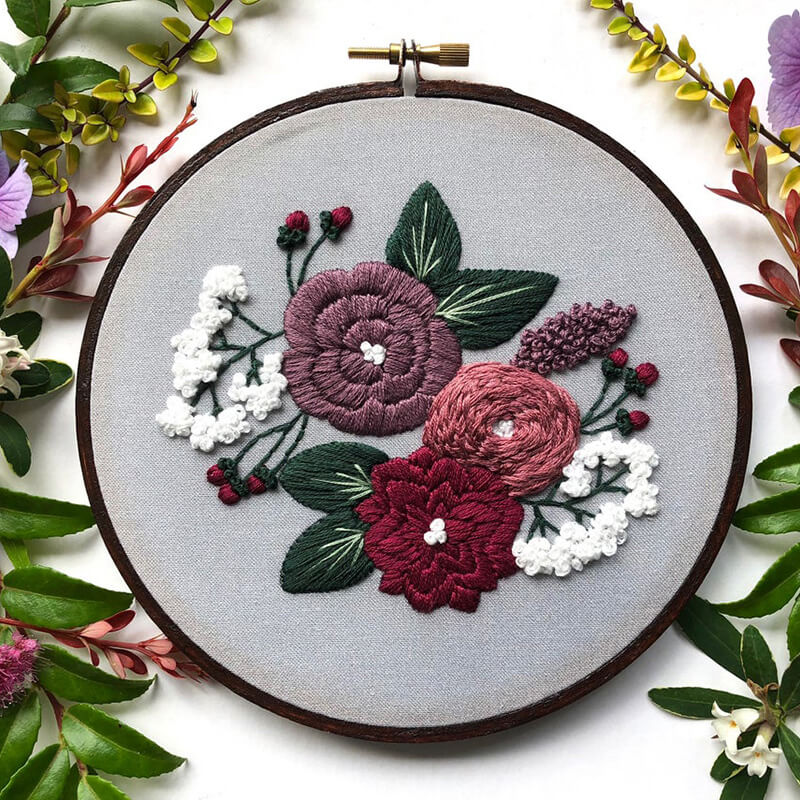 Sarah sure knows how to touch the heart of any color-loving embroiderer. Her floral patterns are a perfect harmony of thread colors and her designs are unique & so satisfying to stitch up. I decided to include multiple of her kits in this list, because they all have different moods and personalities.
What you'll find in this kit:
Pre-printed cotton fabric
wooden embroidery hoop (select your preferred size at checkout)
DMC embroidery floss
One needle
---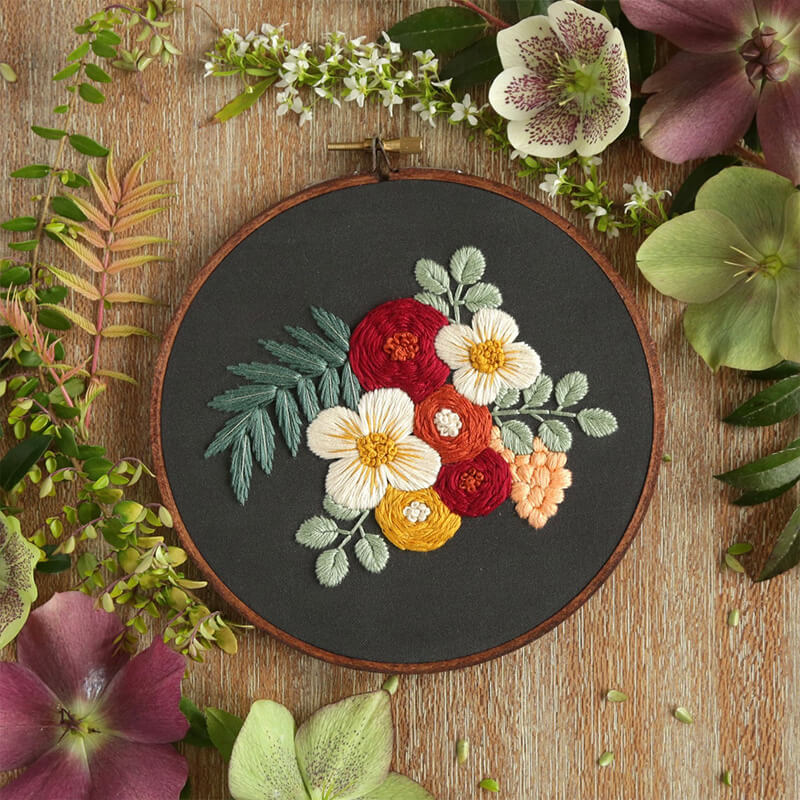 This kit may look intimidating at first sight, but it is actually perfect for beginners. Whether you are trying embroidery for the first time or are an old-time pro looking for a pre-made design, this is an excellent pattern to choose as your next project. There are only a couple basic stitches needed for this pattern and they are explained in detail in the instruction booklet, included within the kit.
This kit includes:
digitally printed cotton fabric
an unfinished wooden embroidery hoop
full skeins of DMC embroidery floss
a DMC embroidery needle
instruction booklet
packaged in a cute box – perfect for gift giving
---
This cute little kit comes with the seller's original illustration already printed in full color on the embroidery fabric. This technique, combined with your stitching will create a depth to the embroidery and will give it a unique character.
This kit comes in three variations, so be sure to read the item description to get the correct bundle for your needs.
---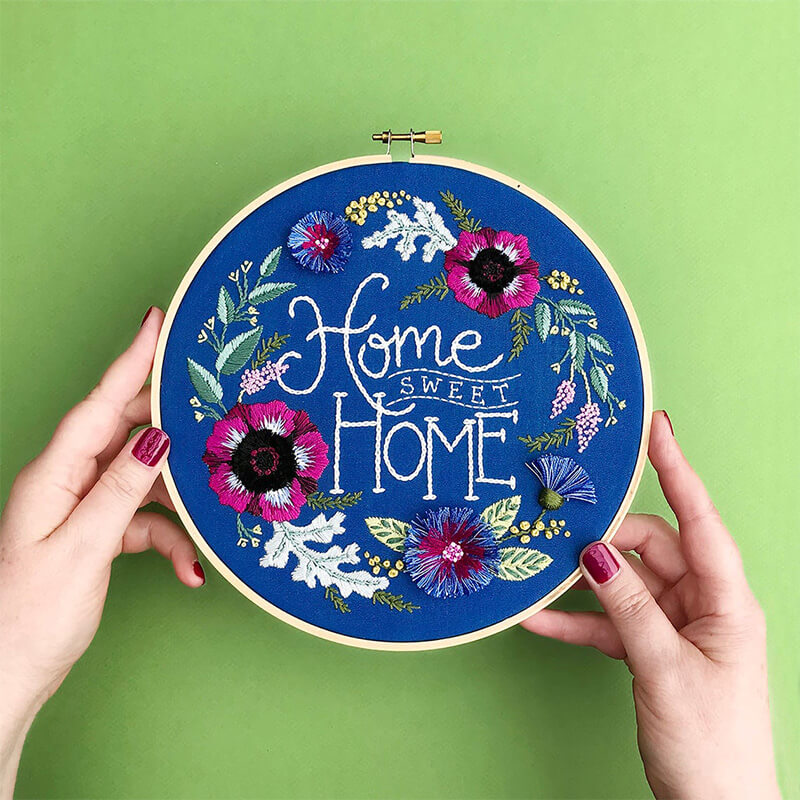 Another fun little project from one of my favorite embroidery blogs is this cozy little pattern. The bright blue background makes all the threads and embellishments really pop, and it's certainly an eye-catcher for anyone walking into the room where this hoop is displayed.
This supply kit comes with:
Full-color printed instruction book
Blue 100% cotton fabric
8″ wooden embroidery hoop
Printed pattern
White gel pen
Full skeins of DMC embroidery thread
One needle
Felt for hoop backing
If the kit is temporarily out of stock, you may consider the pattern alternative.
---
Share This Post
---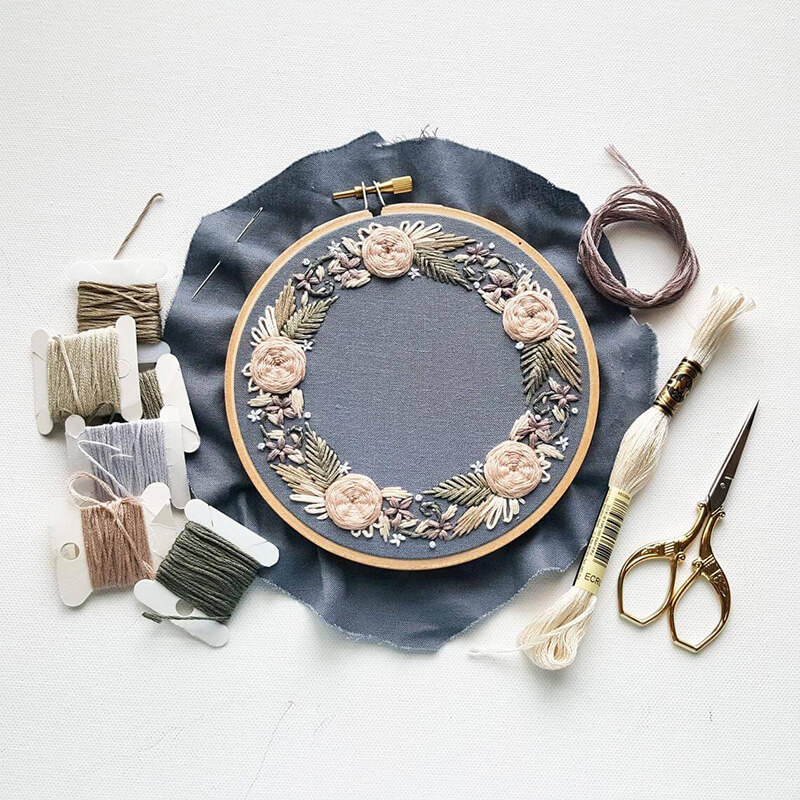 This pattern is a lovely staple in Jessica's embroidery kitchen. It is a pattern that is commonly requested as a border for a number of different occasions: anniversary gifts, wedding and baby announcements and even quotes.
This floral border is excellent for highlighting any text or other needlework. This project is 5 inches which falls into the small category, and all of the stitches used are perfect for beginners. Should you have difficulties though, you can always refer to the Beginner's Guide that's included with the kit.
Jessica also has a library of photographs and videos online which will help you successfully complete this charming starter kit.
If the kit is not available, you can find the pattern here.
---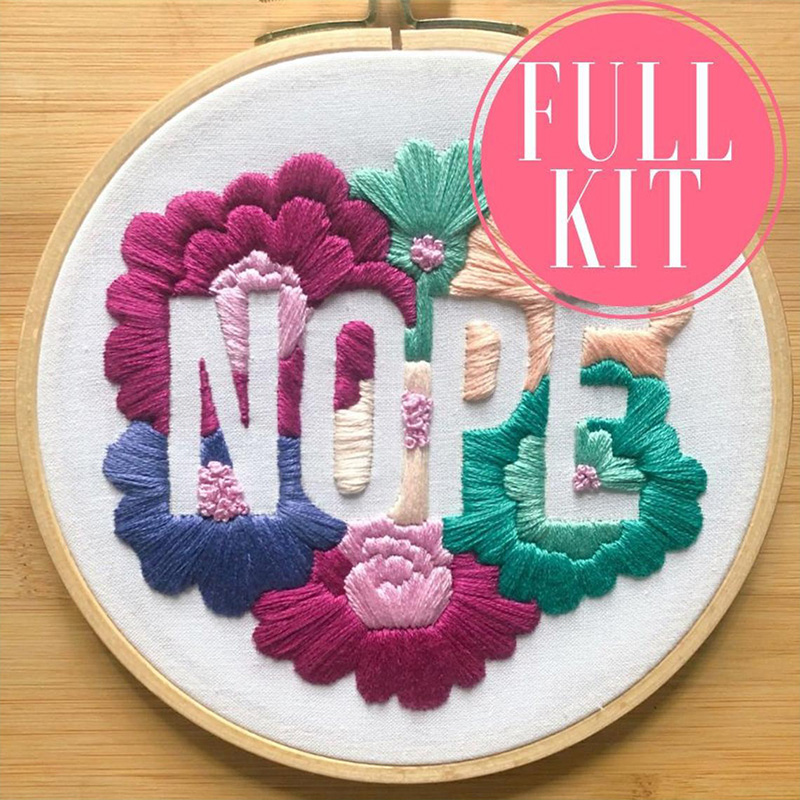 This pattern is excellent for someone just starting off or somebody with a bit more experience with hand embroidery. This funny and easy pattern with its complementary thread colors is so pretty to look at. The teal and blue floss works beautifully
This complete DIY embroidery kit includes everything you need to get started quickly.
What's inside:
Pre-printed cotton fabric
8″ wooden embroidery hoop
Full skeins of DMC embroidery floss in all the colors you'll need
One needle
White felt for hoop backing
Pattern-only alternative available here.
---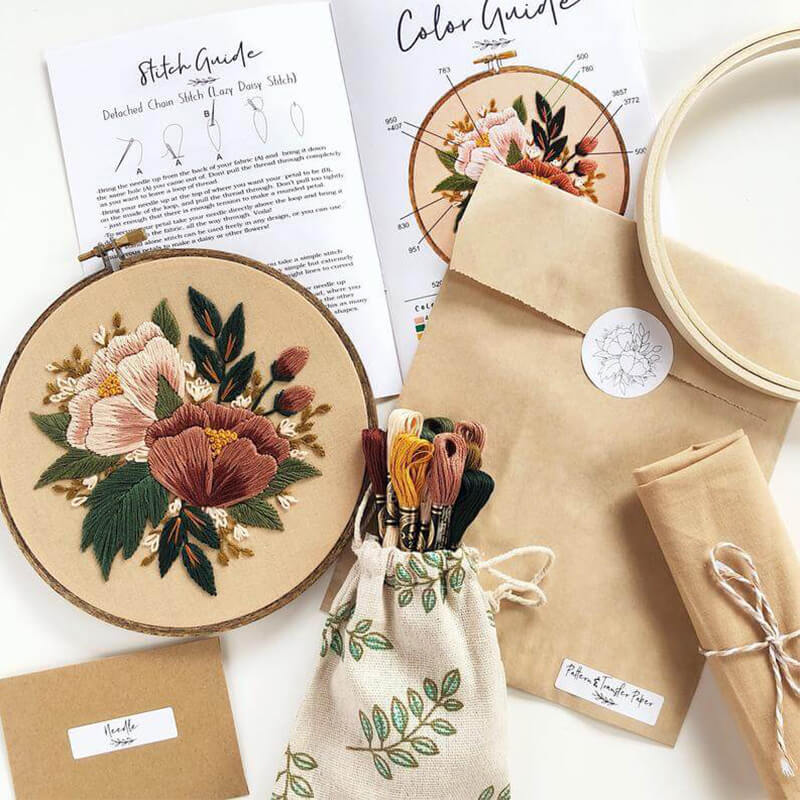 A 6 inch embroidery project featuring blush florals on a light brown cotton fabric. This kit has everything you need to start embroidery – the only thing you need to bring is your scissors!
This DIY embroidery kit is suitable for all levels – perfect for a beginner as it includes a guide teaching all the basic stitches. On the other hand, if you are a more intermediate or advanced stitcher, you could easily make this pattern your own.
The stitch guide includes 5 fundamental stitches covering the basics of hand embroidery. A color guide is included as well, but if you feel creative with thread colors, go for it!
This kit includes:
pattern and transfer paper (both of these can be used multiple times)
fabric in a light brown cotton
6″ embroidery hoop
embroidery floss
needle
a 16 page guide is included as a booklet
If the kit is currently out of stock, you may consider the pattern alternative.
---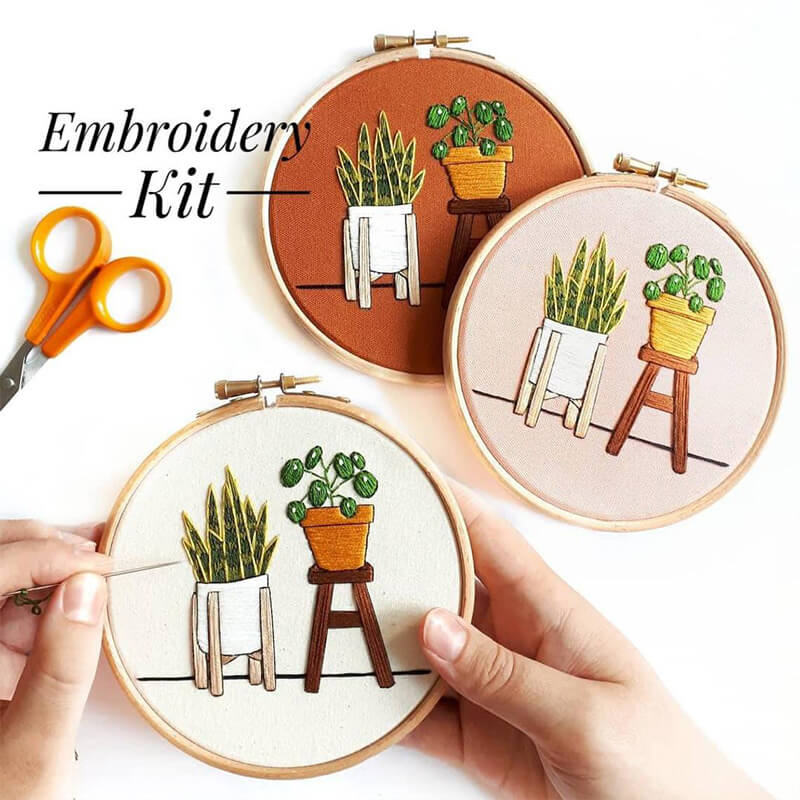 Houseplant enthusiasts will love this starter embroidery kit, especially if they have one of these gracious plants in their home. This pattern is aimed at beginners who are ready to try out a few, slightly more complicated, 3/4 types of stitches.
Never fear, the seller has set up an exclusive Instagram page with video tutorials which you'll gain access to with your purchase. You will also receive all the materials to complete the hoop, plus an informative guide and pattern in order to create your own embroidery hoop as pictured.
---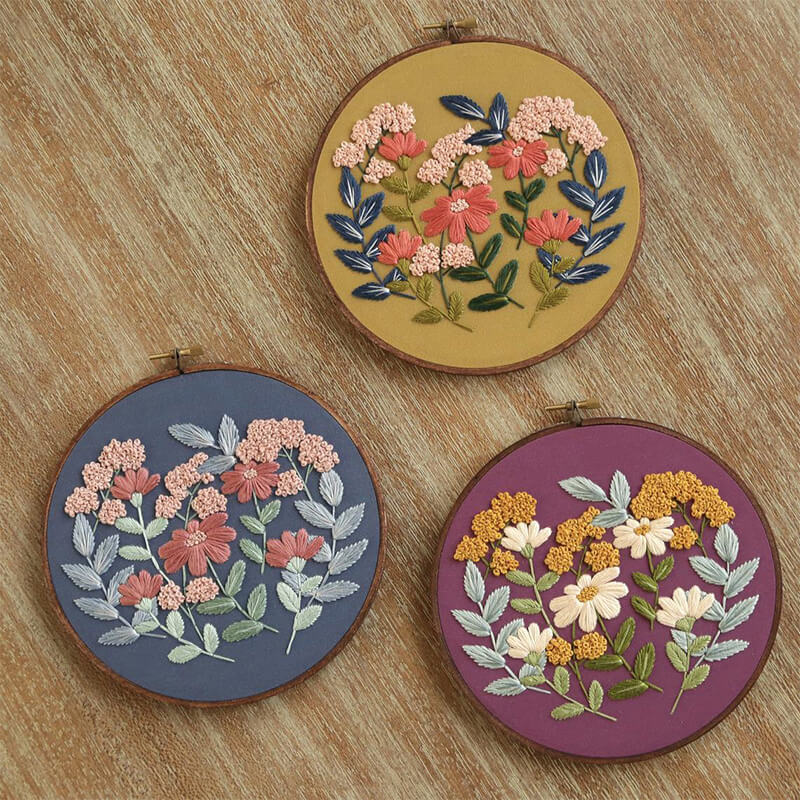 As a beginner you may not yet have had the pleasure of stitching on to colored embroidery fabric. It might look a little bit intimidating, but it's really nothing out of the ordinary and the results are dramatic. If you're willing to give this pastel, but yet so colorful look a try, then this starter kit is absolutely the one for you.
There are actually only a couple of stitches needed to complete this needlework kit and you'll find them in the instruction booklet included with your order.
---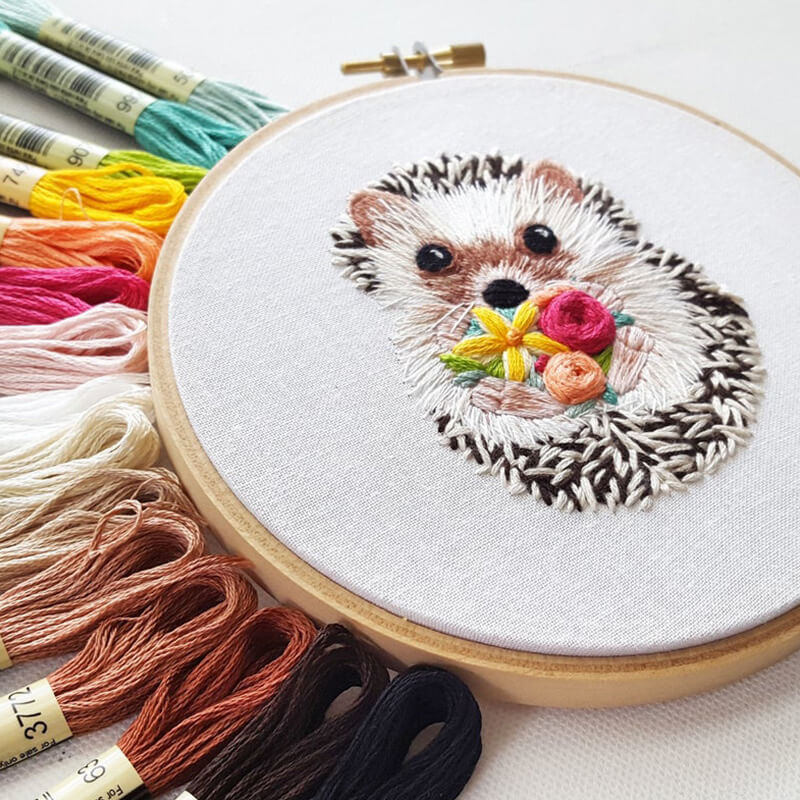 Grab this kit to hand stitch the cutest hedgehog ever! This six inch starter kit with pattern features two different elements that you will get to practice fun modern stitches on.
For the bouquet of flowers you'll learn some basic floral needlework stitches. Moreover, the hedgehog will introduce you to the wonderful world of thread painting (also known as long and short stitch).
Don't worry if you are a beginner! Purchasing this kit will give you access to over 90 minutes of video on Youtube. Watch Jessica stitch the hedgehog, step by step, and follow along at home.
If the kit is out of stock at the moment, try the pattern.
---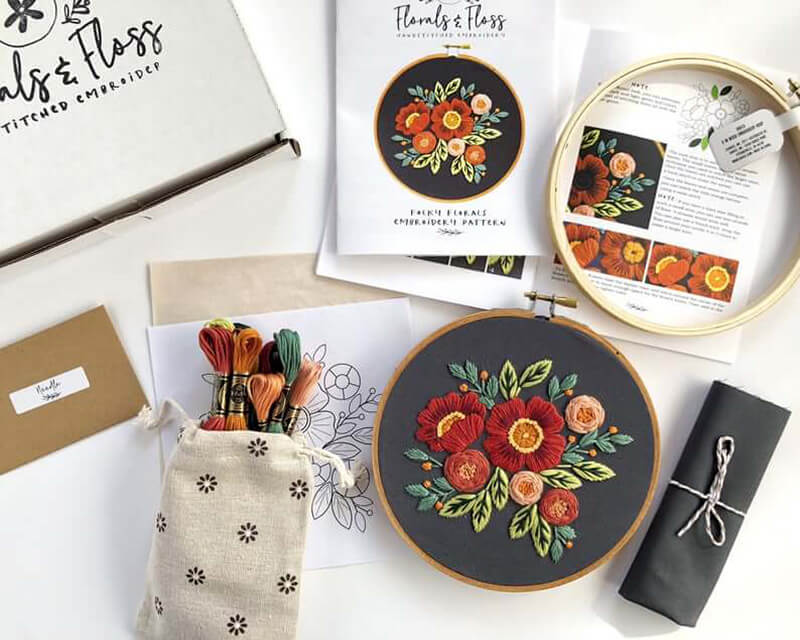 There is something about dark embroidery cloth that makes thread colors look all the more bright and colorful. This folky floral kit from @floralsandflossembroidery is the perfect example of this.
Not only is the pattern absolutely gorgeous and easy to stitch, but the packaging also is adorable, the colours and styling is perfect. The instructions in the kit are easy to follow and will give you the perfect starting point to create a needlework centerpiece for your creative space.
There is also a pattern alternative should the kit be momentarily unavailable
---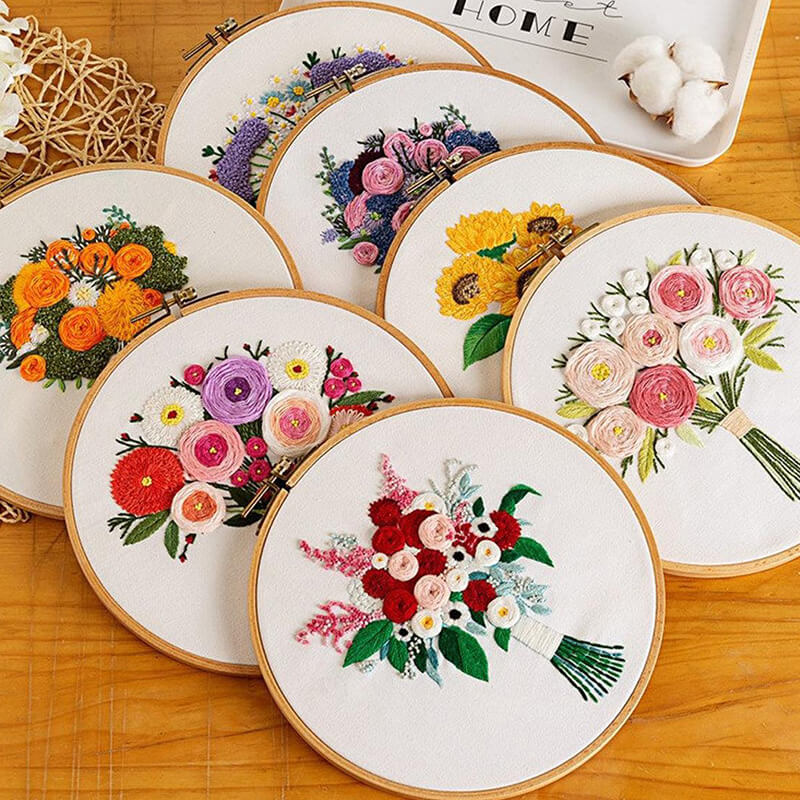 Are you the kind of person who likes having a fresh bouquet of flowers around the house? Then this kit was designed for you. Choose one (or more) of the six available patterns, follow the instructions to complete the kit and you'll always have blooming florals in your home.
The great thing about this kit is that it comes with a fabric, pre-printed with environmentally friendly water soluble printing dye. That means once you're finished with your beautiful handiwork and gently wash your finished piece, the printed pattern underneath your stitches will simply dissolve in water, and no one will know it was ever there.
---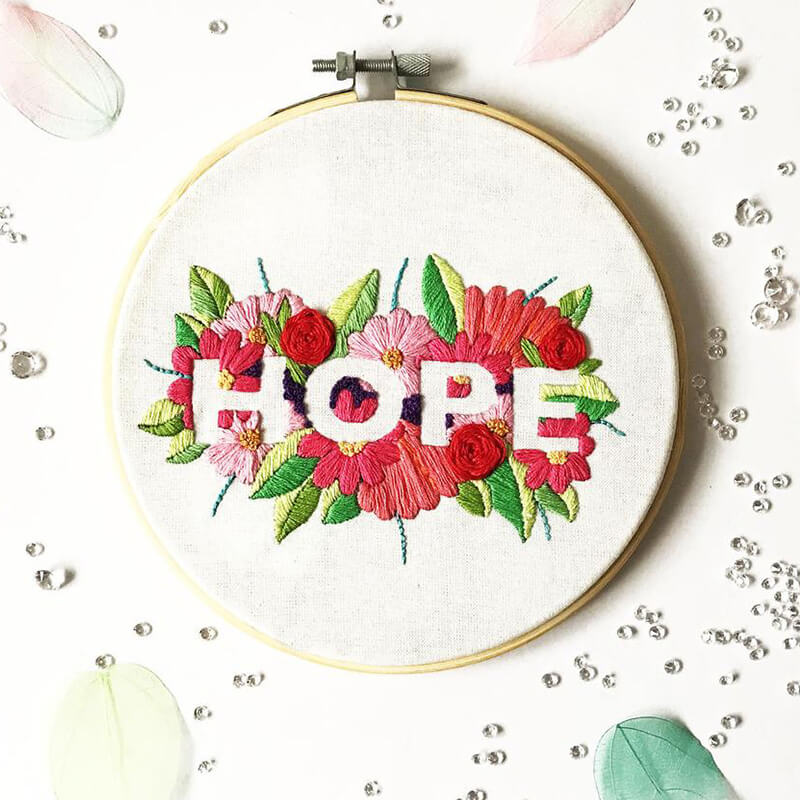 A modern and colorful embroidery kit for those who know the power of hope. The design of this stunning pattern features the word HOPE, surrounded by delicate flowers and greenery. This kit includes absolutely everything you need to get started, including an embroidery stitch practice fabric piece.
This kit comes with pre-printed calico fabric, so you won't need to worry about transferring the design on to the cloth – such a time saver! For the full list of items included in this kit check out the kit description.
---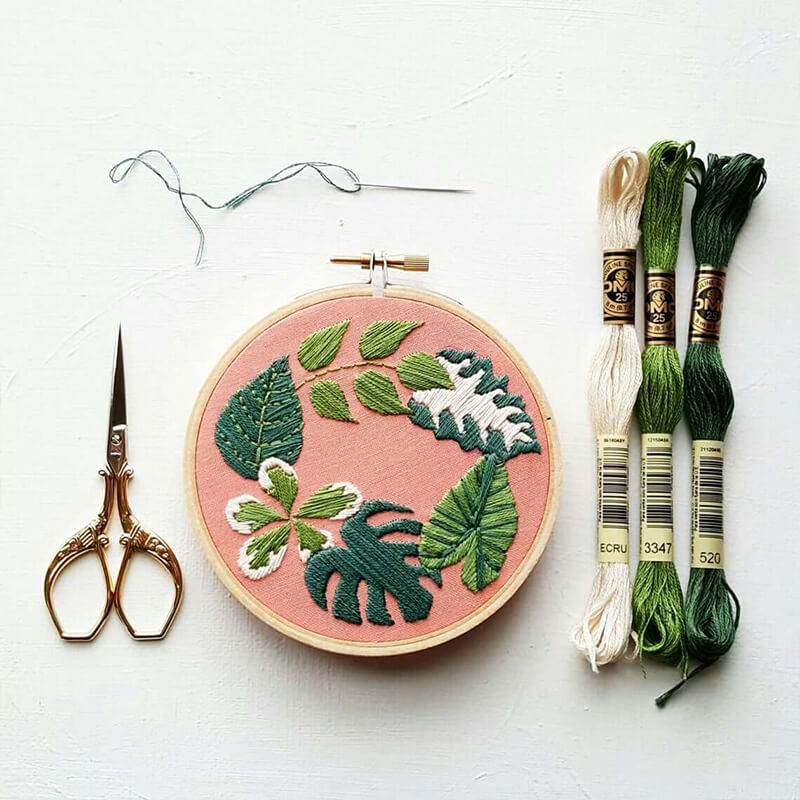 This is a perfect beginner kit for those of you who have a thing going on with tropical plants! It is a pattern that uses only three skeins of floss, so this is one of those projects you can easily toss in your bag and pull out when you find a moment to sneak in a few stitches.
With the 4 inch hoop included, this project is on the smaller side, but if you want to go bigger and bolder, there is also a six inch hoop version of this exact same kit found here.
If the kit is not available, you can always find the pattern here.
---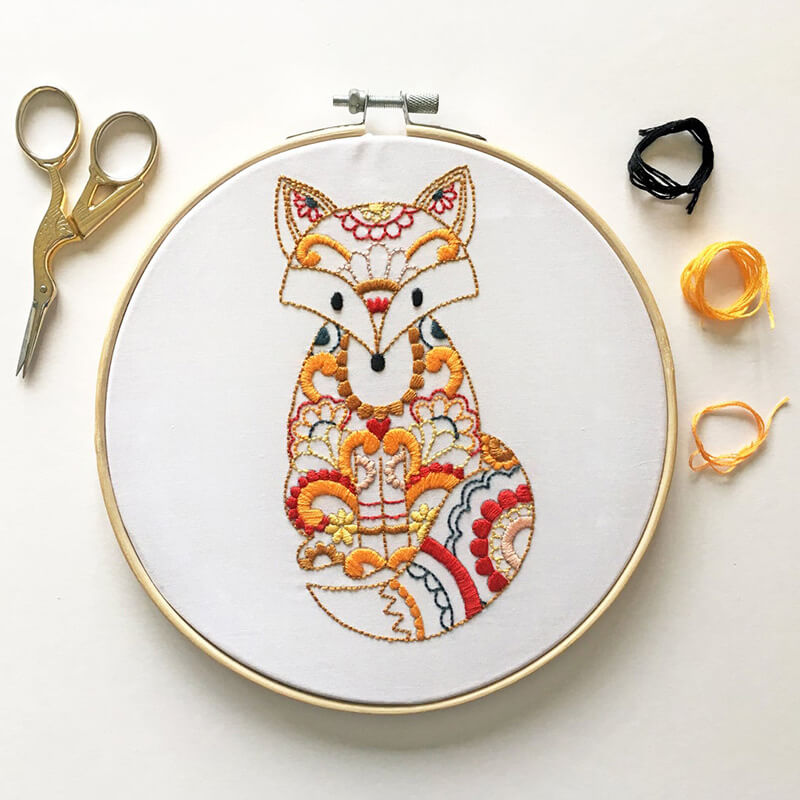 This friendly fox is a great way to practice your backstitch and satin stitches on. The kit comes with genuine DMC embroidery floss, pre-printed fabric, needle, colour & stitch suggestions and of course, the basic stitch guide.
The hoop is not included in the basic kit, but you do have the option to order it with a 7 inch hoop. Read the item description carefully to find out which option is best for you.
Pattern alternative available here.
---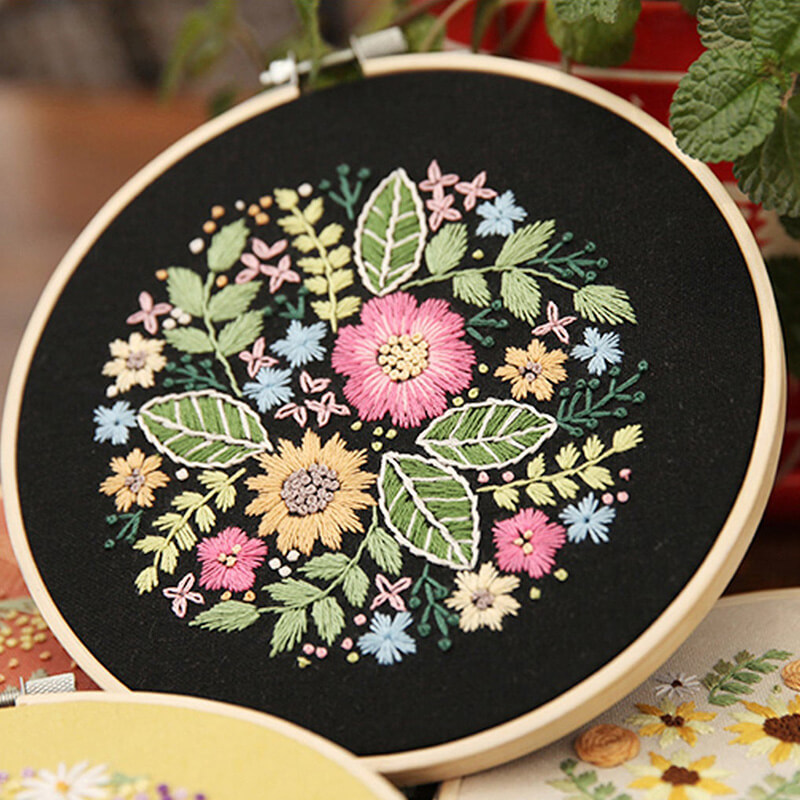 Oh, the dreaded black fabric! Did you know that it's easier to stitch on a dark fabric if you place a white cloth on your lap? If the black cloth is not overly thick, some of the white of the lower fabric will see through the small holes, thus making the dark fabric a little lighter.
It's certainly worth giving a try, just look at how wonderfully vibrant the thread colors become when they are contrasted by the pitch black background.
---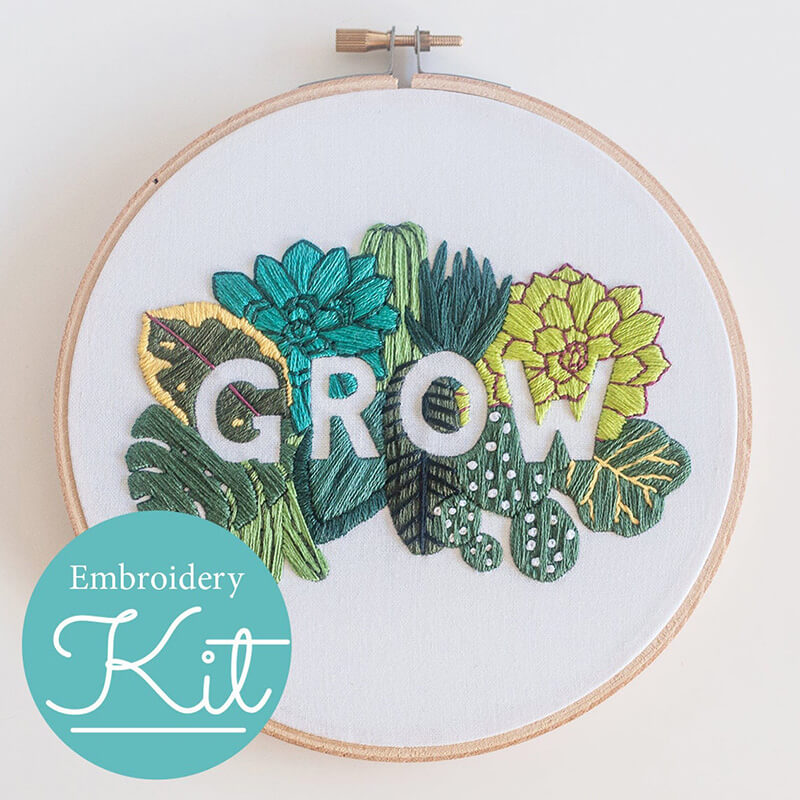 If you've ever owned a succulent you know they need a lot of sunlight, otherwise they stretch out and end up looking pretty bizarre. If you want to add some greenery to a space that has little or no sunlight at all, this kit is the perfect choice for you.
The pattern is designed for those who have a basic knowledge of embroidery. But fear not, if you are a beginner there are a few "Tips and Tricks" included in the pattern to help you along the way.
Kit out of stock? Try the pattern alternative.
---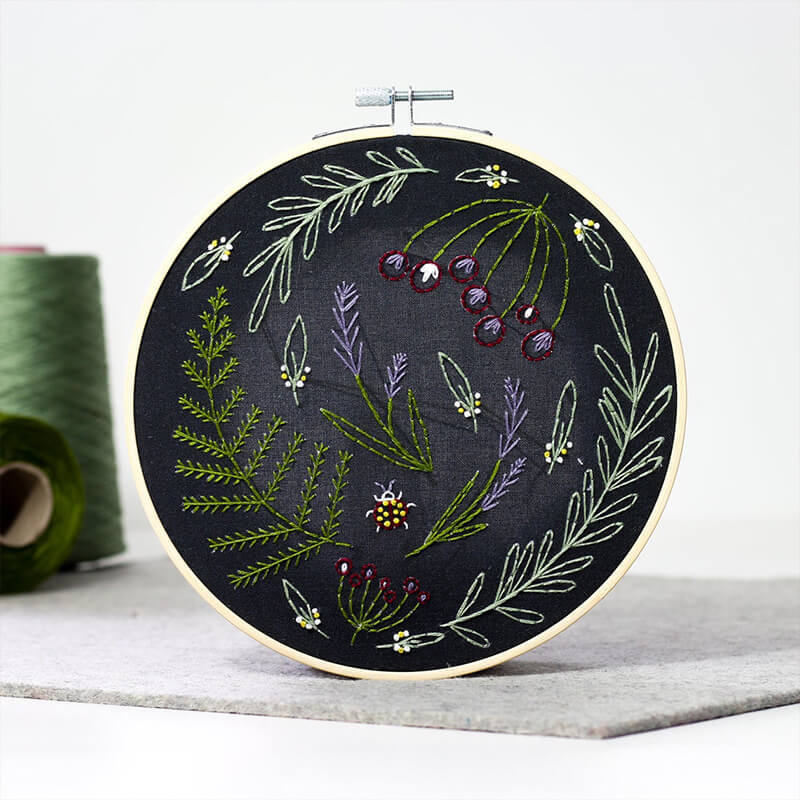 This gorgeous botanical embroidery kit mixes up an old skill with contemporary embroidery design. Anyone with an eye for modern patterns will lose themselves in the joy of this craft. This pattern is actually a modified version of the original design, recreated for black background.
This kit includes green, purple and mauve DMC stranded cotton thread, dark fabric and comes with a 7" embroidery hoop. For more information about this item read the seller's description.
---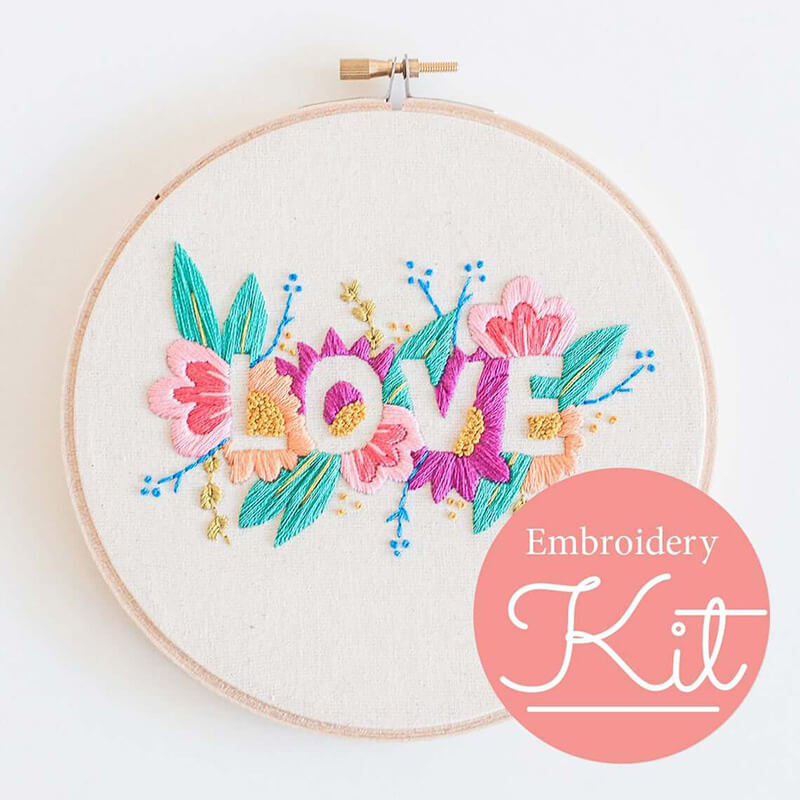 This starter kit is one of the most popular Brynn&Co. designs and it teaches you how to create something amazing with only a few basic embroidery stitches.
The colors of the pattern are bold and vibrant, making up a beautiful bouquet of flowers from which the word LOVE distinctly emerges .
Should the kit be out of stock at the moment, you can always get the pattern here.
---
Same seller, same pattern – completely different vibe! An excellent example on how quickly color can change our perception of objects around us, this kit is for those of you looking for a more toned-down version of the same message.
Like every other kit in this article, this too comes with all the bells and whistles you need to get started and successfully finish the project.
Looking for a pattern alternative? Find it here.
---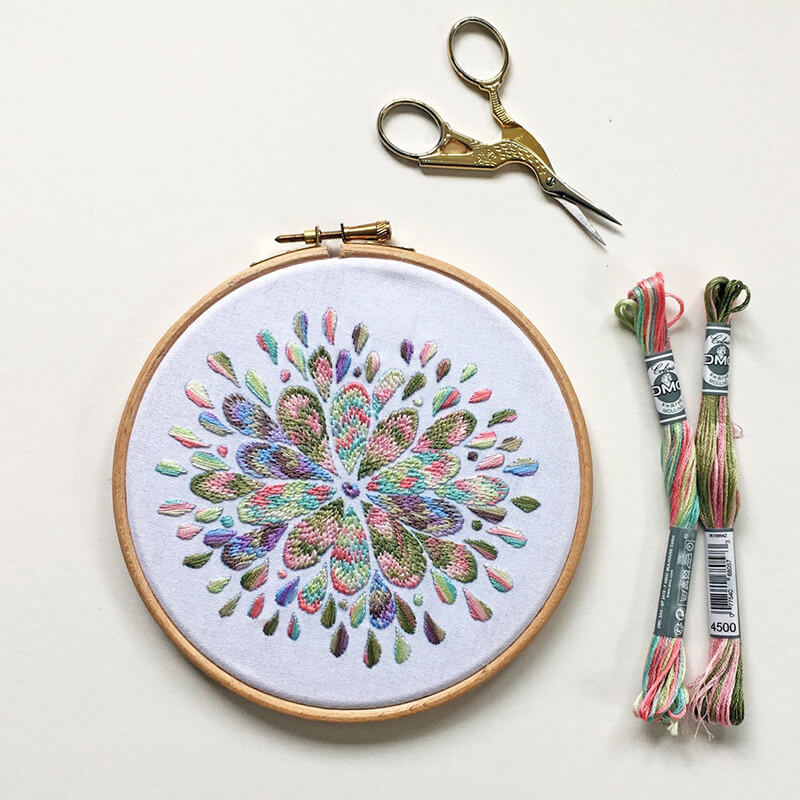 This simple but sparkling design is stitched using 3 shades of DMC Coloris threads, each containing a mixture of different, ever changing colors for a unique and abstract look. The pattern was designed so it could be framed in a hoop, but it would also look just as good in a traditional frame.
You can purchase this kit with or without a hoop – your choice! Read the seller's description carefully to find out what's included in this kit.
If the kit is sold out momentarily, here's the pattern-only version.
---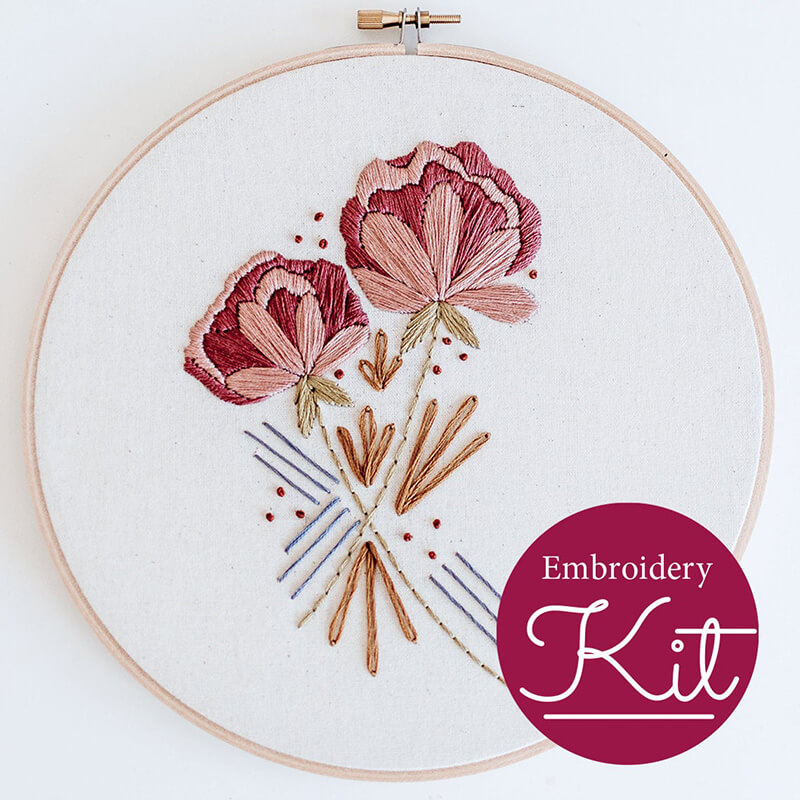 If you're looking for a relaxing end-of-day activity, consider stitching up this cutie with soft tones and delicate lines. With its blush floss palette and easy stitches, this pattern will let you unwind while doing something creative at the same time.
This kit comes packed full of all the supplies you will need including a visual stitch guide and step by step process that the seller herself used to create this hoop.
Pattern alternative also available here.
---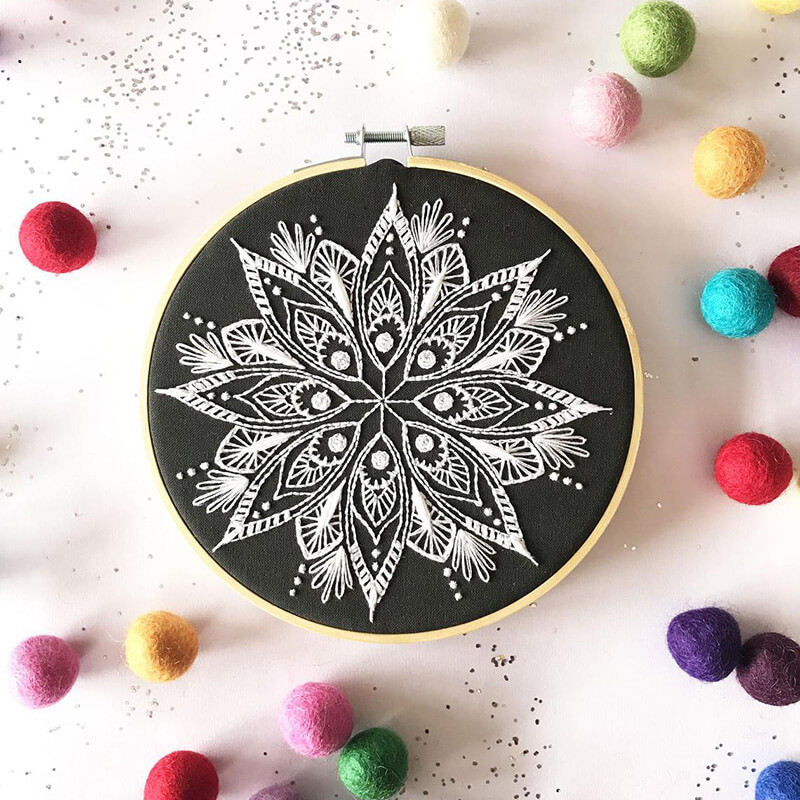 Mandalas are geometric symbols in Buddhism and Hinduism and are considered guidance tools to achieve spiritual development. Despite the fact that it uses only white floss, this embroidered version of precisely aligned geometric symbols is such an eye candy. It is a repeating circular pattern, so once you've done one section – you know how to do them all!
Since this hoop is designed with black background, the fabric comes with your design outline already printed onto calico cotton fabric. You'll also receive a stitch and color diagram and instruction guide, – all the help you need to complete the design.
The basic pattern and tutorial version found here.
---