36 Summer Embroidery Color Palettes, Digital Booklet
The Summer Palette Booklet Vol. 2 (Digital)
NOTE: This is a digital download, no physical item will be shipped to you.
Feeling uneasy about selecting the perfect color palette for your summer embroidery? Not sure what thread colors to choose to give your new project that vibrant, energetic vibe that Summer brings with it every year? This digital PDF booklet will instantly help you with that!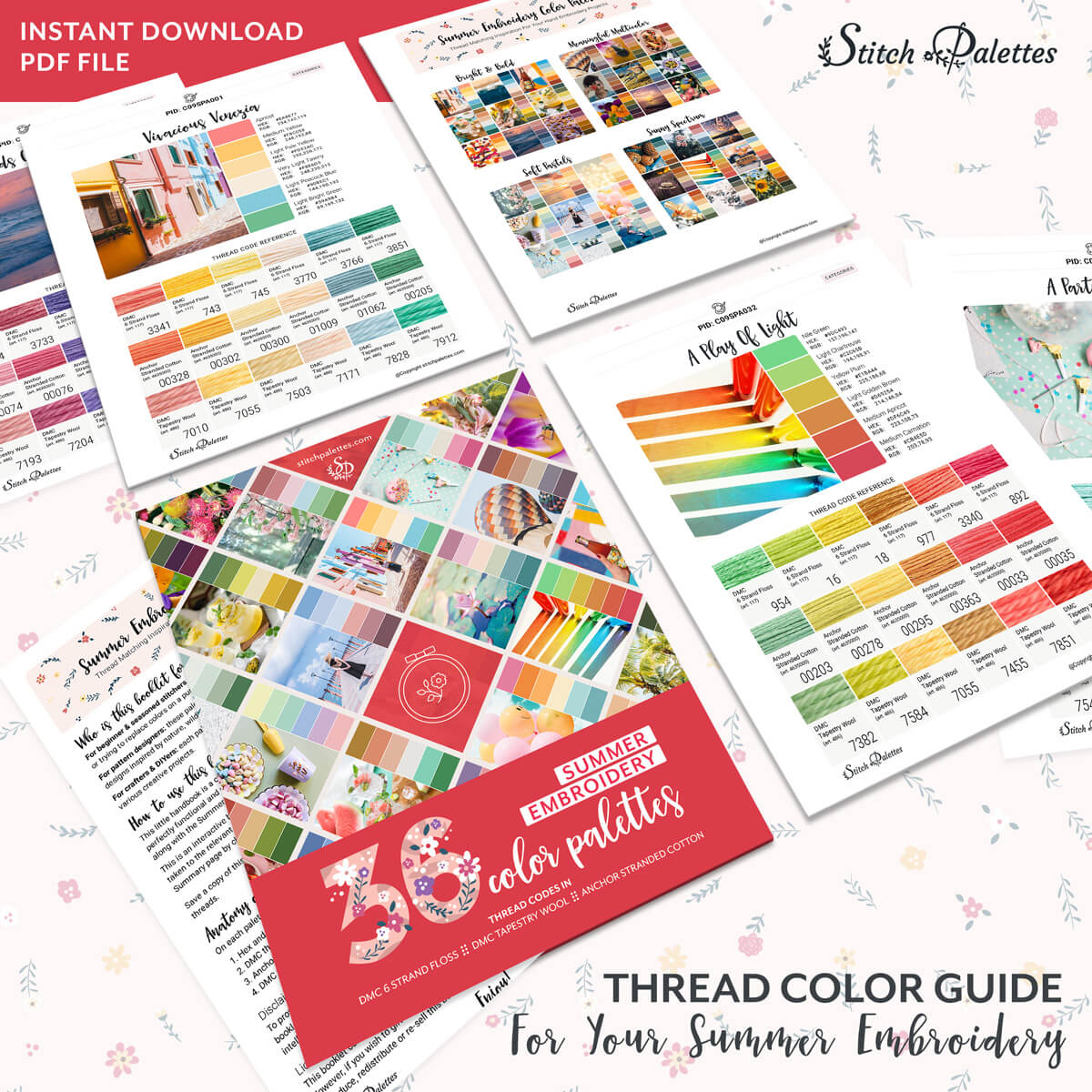 The second volume of my highly popular Summer palette booklet brings you 36 lively and energetic ready-made color palettes. This booklet makes it incredibly easy to select the perfect color combination for your embroidery, allowing to jump straight to the most enjoyable part: the stitching!
The color palettes included reflect a variety of moods: you can choose to go with colors that are lively and lush or tone down your shades for a softer, more delicate look.
This is the digital version of the booklet, and it will give you instant access to the PDF which you will be able to download as soon as your payment is processed. If you're no fan of digital downloads or want to have this booklet at hand without the need for a tablet or phone when you're stitching, check out the printed version.
Who Is This Booklet For?
For beginner & seasoned stitchers alike
Have you purchased a beautiful embroidery pattern but are not too crazy about the colors used by the designer? Or are you just looking for a little bit of inspiration for your summer embroidery? This Booklet is a very useful guide for everyone who finds it difficult/tedious to come up with thread color combinations that blend together well.
For pattern designers
These palettes can help you create harmonious and cohesive embroidery designs. Just create your beautiful linework, and try out different color combinations from this selection to see which works best with your design. Or even better, sell multiple versions of a single pattern design, with different color palettes chosen from this Booklet.
For crafters & DIYers
Each palette page lists both HEX and RGB codes for each of the six colors used, making it easy for you to use them in various craft or design projects. If you own a digital coloring book, this Booklet will give you exactly 36 different variations on coloring each of those pages.
What You Will Find Inside
Each palette consists of six assorted colors that either complement or contrast each other. A palette page is divided into two sections: A Color Code Reference (1) and a Thread Code Reference (2).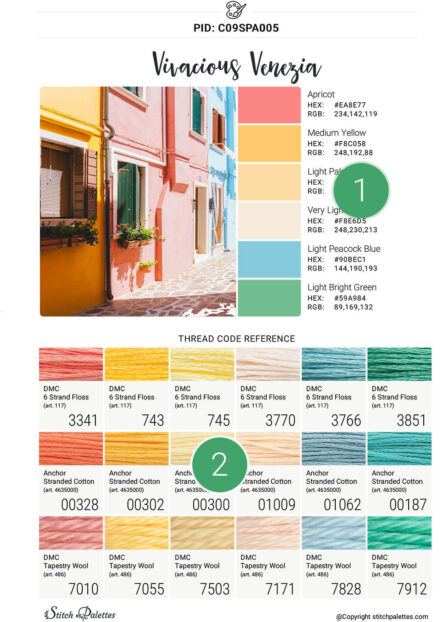 The Color Code Reference section gives you the HEX and RGB codes of each individual color, so you can apply these during your digital coloring adventures and other Summer craft projects.
The Thread Code Reference provides you with three key pieces of information:
The DMC six strand embroidery thread shade code (art.117) and image
The Anchor Stranded cotton thread shade code (art.4635000) and image
The DMC tapestry wool code (art.486) and image – for more bulky, Bargello type embroidery
What You Will Receive
This is a digital download, a PDF file that will be available for download after you complete your purchase. Please be aware that nothing will be shipped to you in a physical form.
All payments are processed by PayPal over a secure connection, which means none of your payment information will be accessed or stored by this website. You do not need to have a Paypal account to complete your purchase. After payment is complete, you will receive a download link in your inbox at the email address you specified during the checkout process.
It should take no more than 10 minutes for this confirmation email to arrive. If you notice a delay in receiving your download link, please make sure to check your 'Junk' folder for the email. Sometimes spam filters can be a bit over-protective, and send genuine emails into the 'detention center' of your inbox.
IMPORTANT: File download links expire in 72 hours, so please download your files immediately after purchase.
Purchase Terms
Delivered as an instant download, after completing your purchase
Licensed for one user only
Cannot be sublicensed, resold, shared, transferred, or otherwise redistributed on its own
Energize your Summer embroidery designs with this colorful booklet of 36 flourishing embroidery color palettes!
---
Share this image