The Seasonal Palette Booklet Bundle
The Seasonal Palette Booklet Bundle
NOTE: This is a digital download, no physical item will be shipped to you.
Are you struggling with color matching for your embroidery? Do you want to take the guesswork out of choosing colors that compliment each other well? Than you've come to the right place.
Booklets Included in this bundle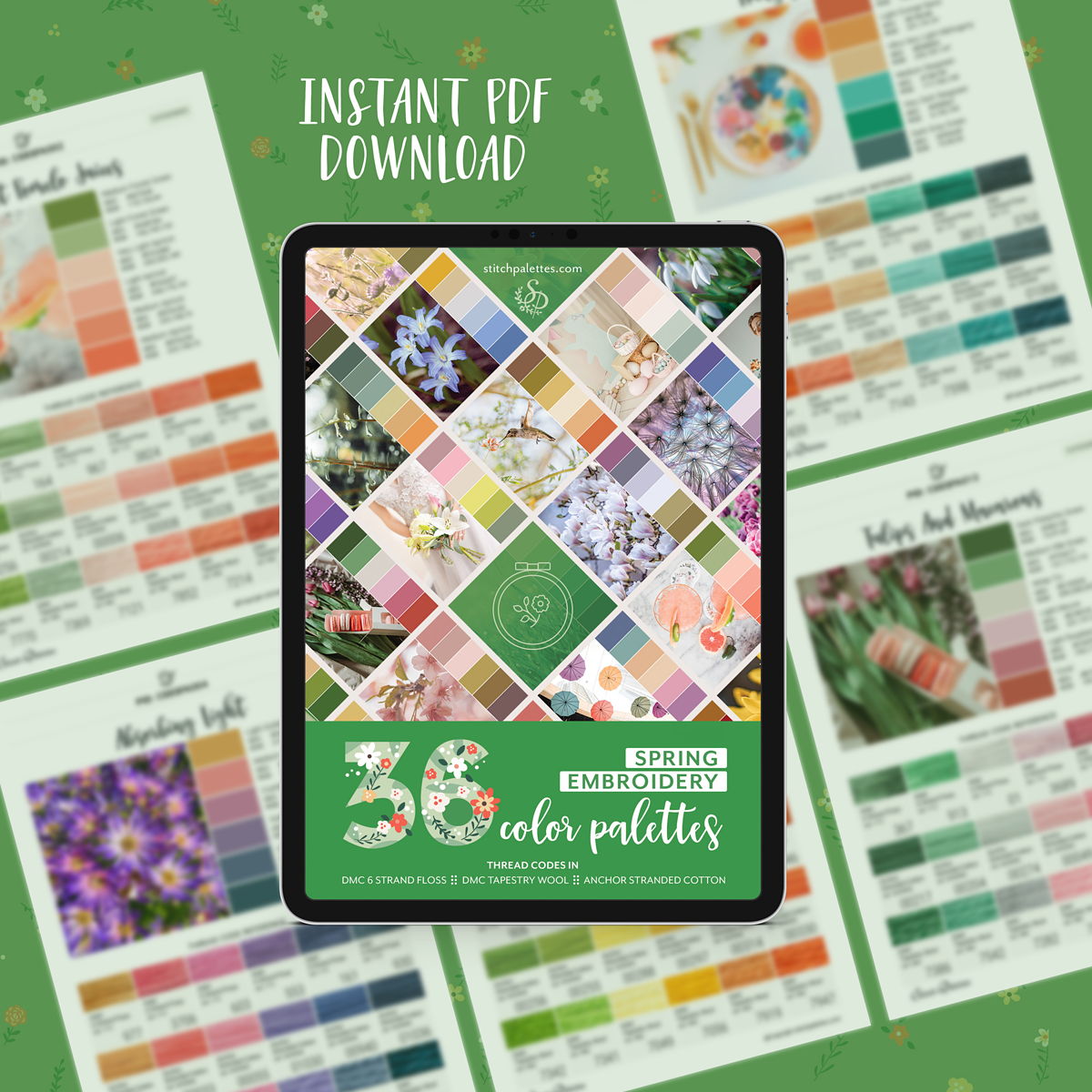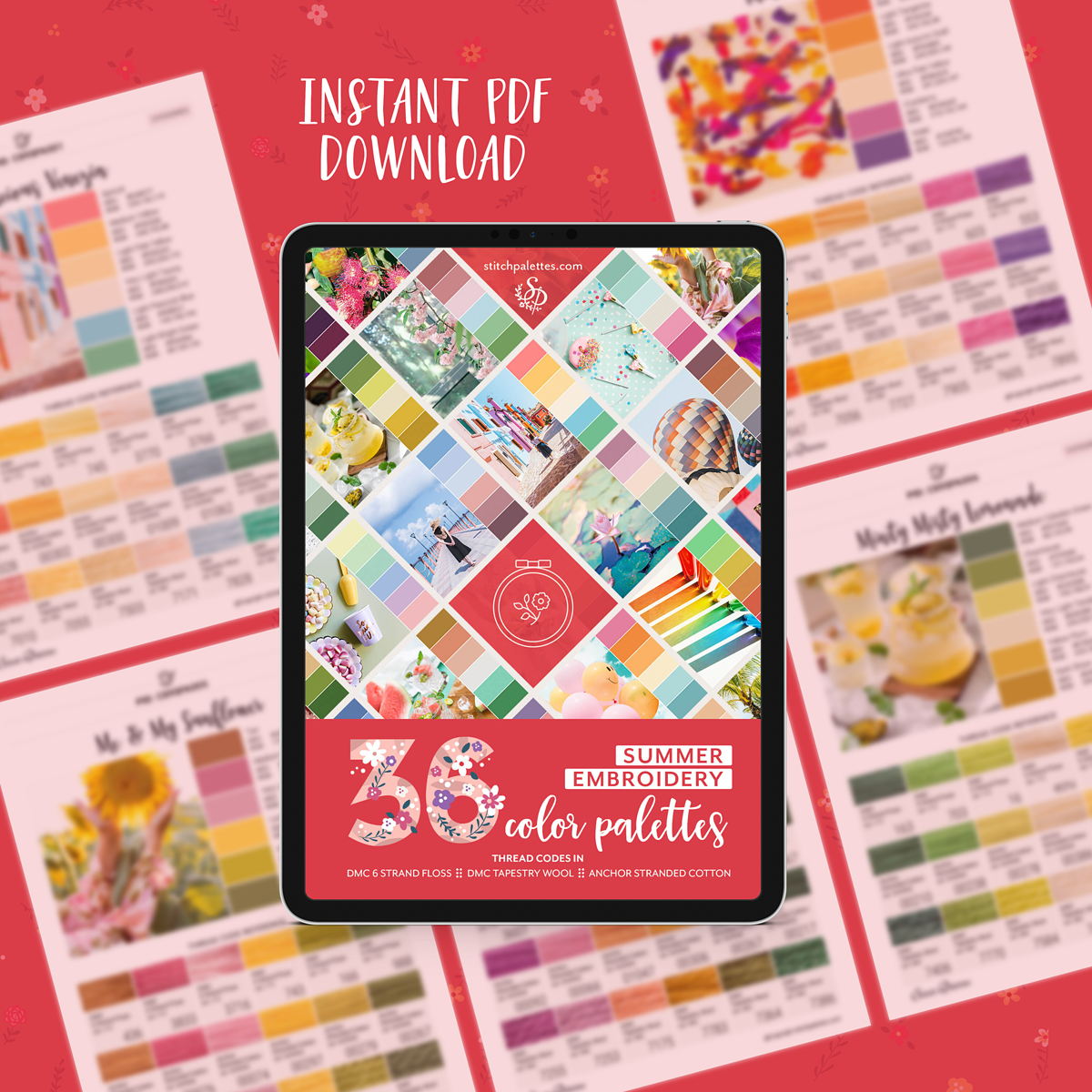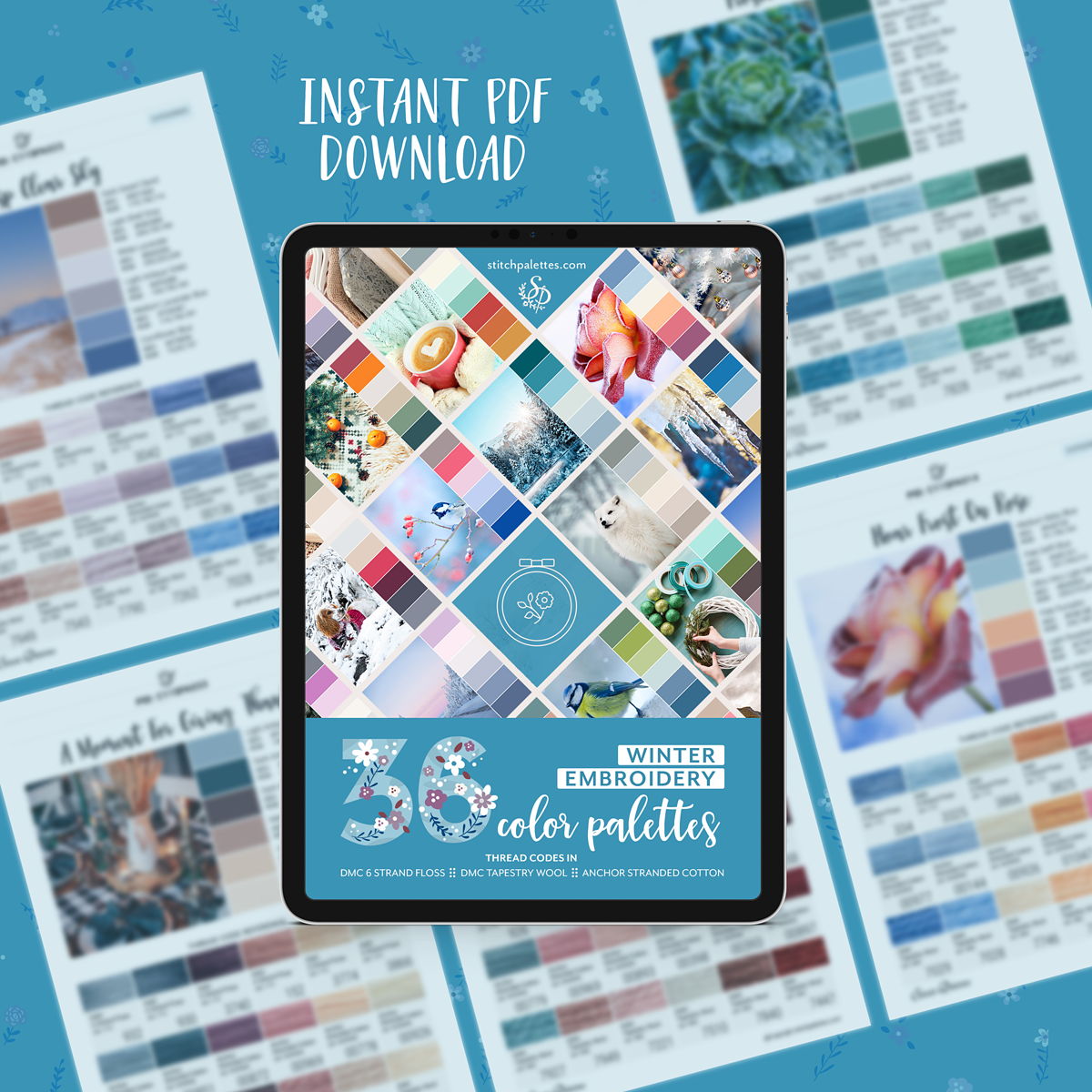 This bundle is everything you need to find the perfect colors for your seasonal embroidery. There are 4 stand-alone Palette Booklets included in this bundle, each of them packed with 36 ready-made and carefully chosen thread palettes. That gives you a total of 144 color options to choose from for your next embroidery project.
Who Is This Booklet Bundle For?
For beginner & seasoned stitchers alike
Have you purchased a beautiful embroidery pattern but are not too crazy about the colors used by the designer? Or are you just looking for a little bit of inspiration for your embroidery? These Booklets are very useful when you're stuck trying to find thread color combinations that blend together well.
For pattern designers
These palettes can help you create beautiful and harmonious embroidery designs for any season of the year. Just create your beautiful linework, and try out different color combinations from this selection to see which works best with your design. Or even better, sell multiple versions of a single pattern design, with different color palettes chosen from these Booklets.
For crafters & DIYers
Each palette page lists both HEX and RGB codes for each of the six colors used, making it easy for you to use them in various craft or design projects. If you own a digital coloring book, these Booklets will give you exactly 36 different variations each on coloring those pages.
Read more about what's included:
1. The Spring Palette Booklet (Digital)
Feeling uneasy about selecting the perfect color palette for your spring embroidery? Not sure what thread colors to choose to give your new project that cheerful, blooming vibe that Spring brings with it every year? This downloadable booklet will instantly help you with that!
2. The Summer Palette Booklet (Digital)
The Summer Palette Booklet brings you 36 lively and energetic ready-made color combinations. Energize your Summer embroidery designs with this colorful booklet of 36 flourishing embroidery color palettes!
3. The Autumn Palette Booklet (Digital)
This A6 size handbook comes with 36 leaf-strewn and spectacular ready-made thread palettes. Harmonize your Autumn embroidery designs with this colorful booklet of 36 spectacular embroidery color combinations.
4. The Winter Palette Booklet(Digital)
Having a hard time selecting the perfect color palette for your winter embroidery? Not sure what thread colors to choose to give your new project that chilly, frosty vibe that Winter brings with it every year? This digital booklet will instantly help you with that!
---
What You Will Receive
This is a bundle of 4 individual PDF files which will be available for download after you complete your purchase. Please be aware that nothing will be shipped to you in a physical form.
All payments are processed by Credit Card or PayPal over a secure connection, which means none of your payment information will be accessed or stored by this website. You do not need to have a Paypal account to complete your purchase. After payment is complete, you will receive a download link in your inbox at the email address you specified during the checkout process.
It should take no more than 10 minutes for this confirmation email to arrive. If you notice a delay in receiving your download link, please make sure to check your 'Junk' folder for the email. Sometimes spam filters can be a bit over-protective, and send genuine emails into the 'detention center' of your inbox.
IMPORTANT: File download links expire in 72 hours, so please download your files immediately after purchase.
Purchase Terms
Delivered as an instant download, after completing your purchase
Licensed for one user only
Cannot be sublicensed, resold, shared, transferred, or otherwise redistributed on its own
Rewards
If you decide to purchase this Booklet Bundle, and can spare a moment to write a review, you'll be in for a treat! Just complete the form below describing what your opinion is about this item, why you're finding it useful or in what way you're planning to use it (as a pattern designer, as a crafter for coloring projects, on a tablet or computer, etc.).
As a token of my appreciation, I'd be happy to offer you a discount: 15% off your next purchase, which you will receive shortly after your review has been verified. Apart from making me really happy, your kind gesture would help other stitchers make an informed decision whether this product is the right choice for them. So thank you!
---
Share this image