Thread Inventory Color Chart
Printable Thread Inventory Color Chart
NOTE: This is a digital download, no physical item will be shipped to you.
Are you sitting on a huge pile of embroidery floss like a mighty dragon on her treasure stash, without having a clue about what you actually have? Well then, it's time to get organized.
When you have dozens of skeins of embroidery floss lying around in your craft room, having a thread color chart is a life-saver. It is an essential tool that will help you quickly find out which shades make up your arsenal, saving you tons of time wasted on scouring through a pile of thread.
What's Inside
This handy chart provides you with a color and number reference for the most popular DMC embroidery thread families, a whopping number of 615 colors in total:
Six-strand floss (482 colors including the newest 35)
Variegated (also called mixed) Cotton (18 colors)
Light Effects (36 colors)
Color Variations (36 colors)
Coloris (24 colors)
Mouliné Étoile (35 colors)
Diamant (14 colors)
Diamant Grandé (6 colors)
Each table in this chart is broken down into five sections: a color swatch column, floss code and floss name columns, an empty column for storing reference thread and finally the quantity tracker column which you'll update once you add or use up a skein.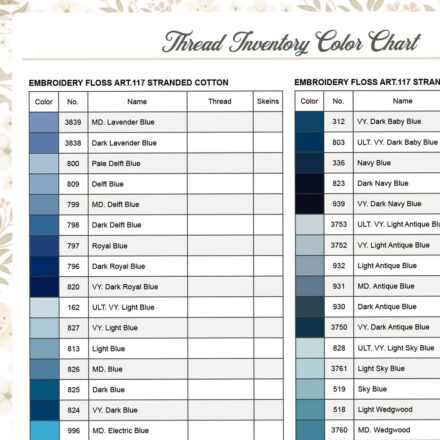 Colors are organized by families, in the exact same order DMC lists them on their shade cards. I like this way of organizing because:
it allows you to identify all shades of a specific color
if you run out of a shade or it's not available in your area, it allows you to instantly find alternatives
the flow of colors from one page to the other will give you a hint of what colors work well together
However there are situations when you need to quickly pull up a color and update the quantity. For this purpose I also included a table of reference at the end of this downloadable PDF, where you'll find all threads in numerical order with their corresponding page number.
---
Why should you buy this chart?
For easy color reference
The charts provide you with a color swatch for all currently produced DMC thread colors. If you're a pattern designer or a frequent stitcher who often puts her own colors together, you will find this booklet to be the first thing you reach for when starting a new project.
To keep on top of the inventory game
Keep this catalog updated and take it with you on your next trip to the craft store, or have it in front of you when ordering online. It will help you avoid buying duplicates of a certain shade while forgetting to get the ones you have zero pieces of.
To easily identify spare thread numbers
After you've placed some reference threads in the Thread column of your charts, you'll find it a breeze to identify that pesky skein that lost it's label, or those two strands of delft blue floss casually wound on an annoyingly uninformative bobbin.
What You Will Receive
This is a digital download, a PDF file that will be available for download after you complete your purchase. Please be aware that nothing will be shipped to you in a physical form.
All payments are processed by PayPal over a secure connection, which means none of your payment information will be accessed or stored by this website. You do not need to have a Paypal account to complete your purchase. After payment is complete, you will receive a download link in your inbox at the email address you specified during the checkout process.
It should take no more than 10 minutes for this confirmation email to arrive. If you notice a delay in receiving your download link, please make sure to check your 'Junk' folder for the email. Sometimes spam filters can be a bit over-protective, and send genuine emails into the 'detention center' of your inbox.
IMPORTANT: File download links expire in 72 hours, so please download your files immediately after purchase.
---
Purchase Terms
Delivered as an instant download, after completing your purchase
Licensed for one user only
Cannot be sublicensed, resold, shared, transferred, or otherwise redistributed on its own
---
Share this image