Embroidery Membership at StitchPalettes.com
Meet the Photo to Thread Palette converter
the easiest way to find beautiful color combinations for your embroidery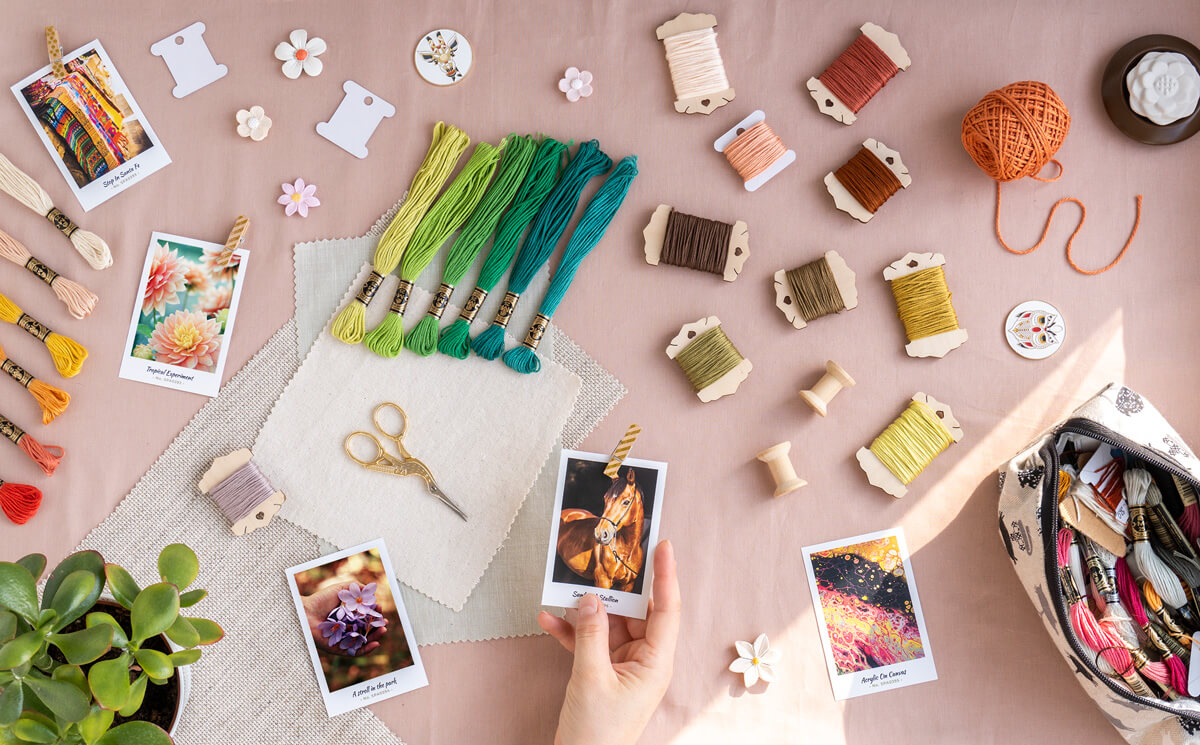 Get better instantly at picking the right thread colors for any needlework project.
Are you the type of person who feels intimidated by the thought of selecting your own thread colors to use in embroidery? Have you ever started an exciting new project only to realize halfway through that the shades you picked are less than ideal, making you feel frustrated and wanting to start over?
While having a well-designed pattern is always an important starting point, using a consistent and coordinated color palette can do wonders for your finished hoop.
I know that you might be thinking: "I don't know how to select colors that work well together. I'm not that creative!".
Hi, I'm Krisztina and I have been working as a web designer for over 15 years, with no prior design education – and I'll be the first to tell you that you not being creative enough is not the actual problem. After all, you are an embroidery artist, and that's pretty high up the creative ladder if you ask me!
The problem is that you're looking at it from the wrong perspective, trying to pull out the perfect color palette without giving yourself enough time to find inspiration. Instead of trying to imagine how certain colors would look together, why not go out (either virtually or physically) and collect some photos that convey the feeling you want to 'transfer' to your embroidery.
And my Photo to Palette converter will take it from there!
Turn your beautiful photos into ready-to-use embroidery palettes, with thread codes.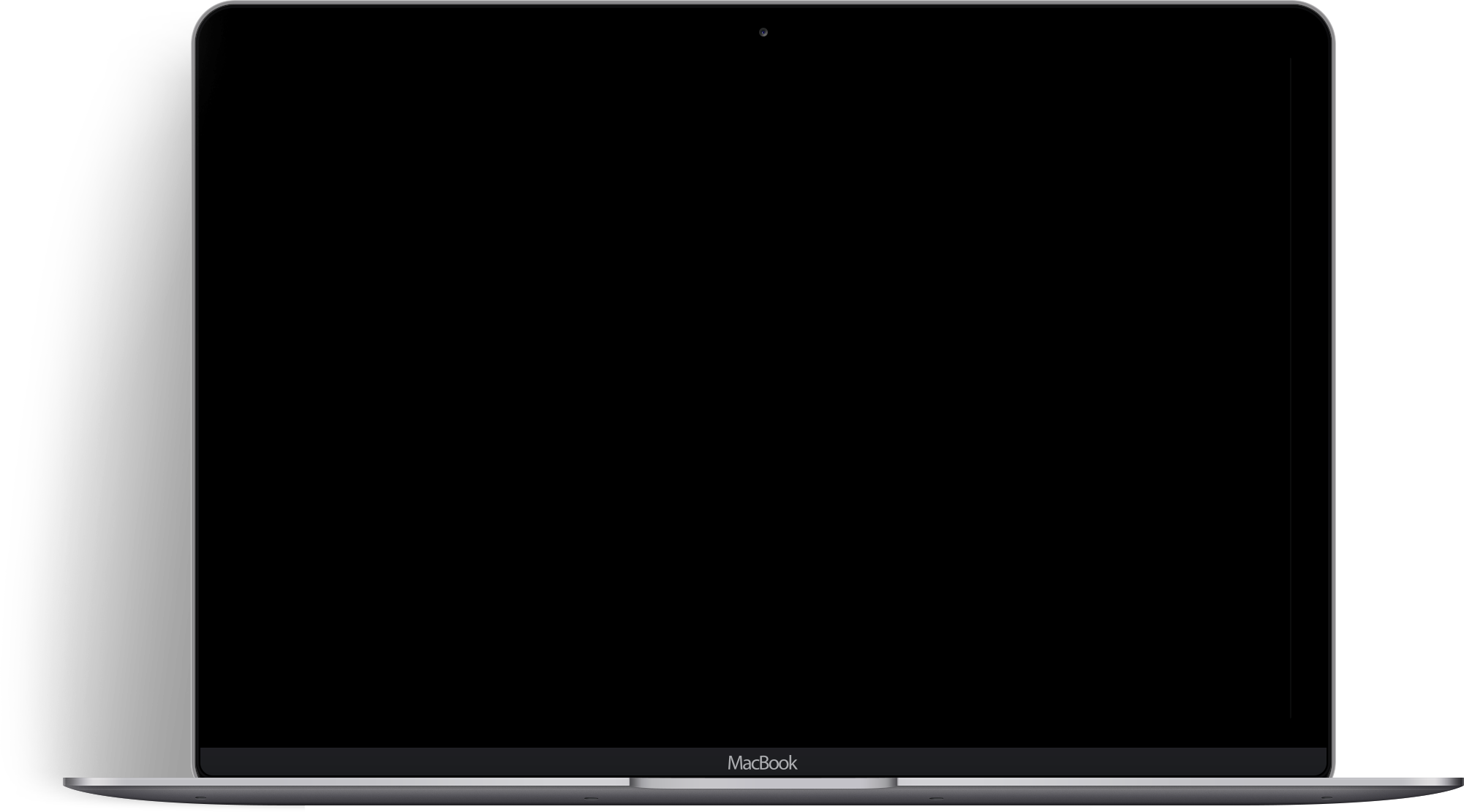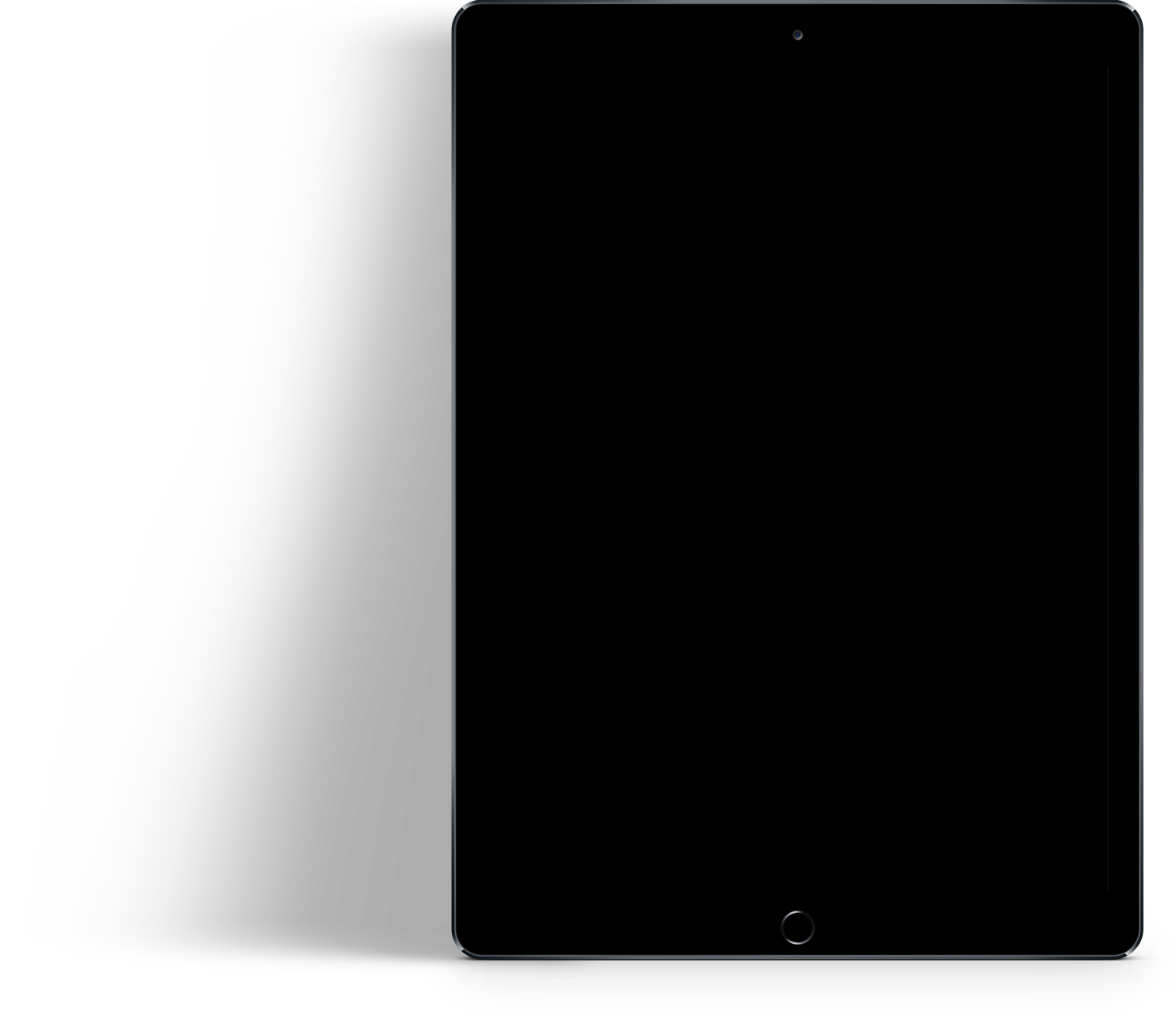 I created this easy-to-use online tool specifically for this purpose. The converter will take any photo in .jpg, .jpeg or .png format and instantly turn it into a beautifully cohesive stitch palette so that you can start embroidering right away.
Do you have thriving rose bushes in your garden that are just begging to be photographed? Or timeless purple pansies that are making your neighbors jealous?
Take your phone or camera out with you and shoot some photos of these beauties in good lighting. Then simply upload those pictures to the converter and instantly see the thread colors you need to make a wonderfully unique project, featuring your own flowers as the centerpiece.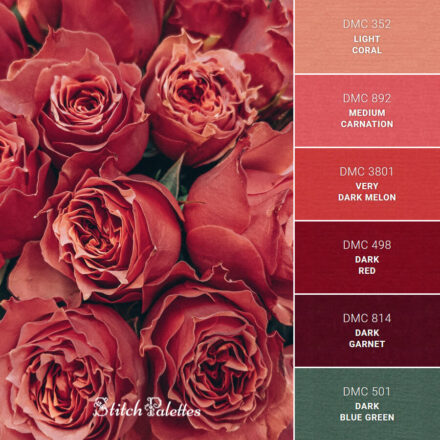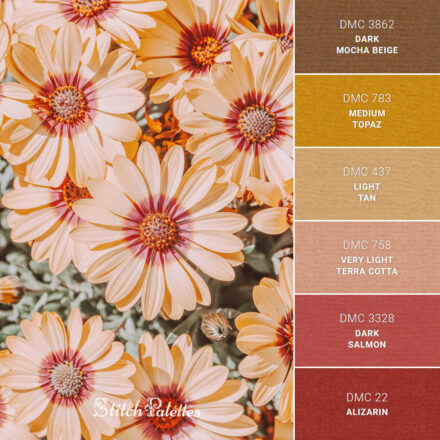 Why this converter is unique
works on smartphones and tablets too so you can quickly and easily upload your picture seconds after you take it
once you're a member and have an active subscription, it allows endless conversions, so you never miss an opportunity to create an amazing palette
instantly improve color accuracy in any real-life to embroidery transfer, and overtime training your eye to better recognize individual colors
not only embroidery thread codes, but HEX, RGB and CMYK color codes are also shown in the list, so you can easily make beautiful digital art (or stickers!) from the chosen colors as well
---
The four major components of the converter
1. The generated palette
A thread list assembled for you, by computer science
This section gives you a list of thread colors generated for you by the algorithm, which works by pulling out the most dominant colors from your photo. You can ask for up to twelve colors by simply adjusting the – and + buttons right above the thread list, or directly typing your desired value in the text box in between.
You also have an option to remove a color from your list, or finding alternatives to it by clicking the 'Details' button.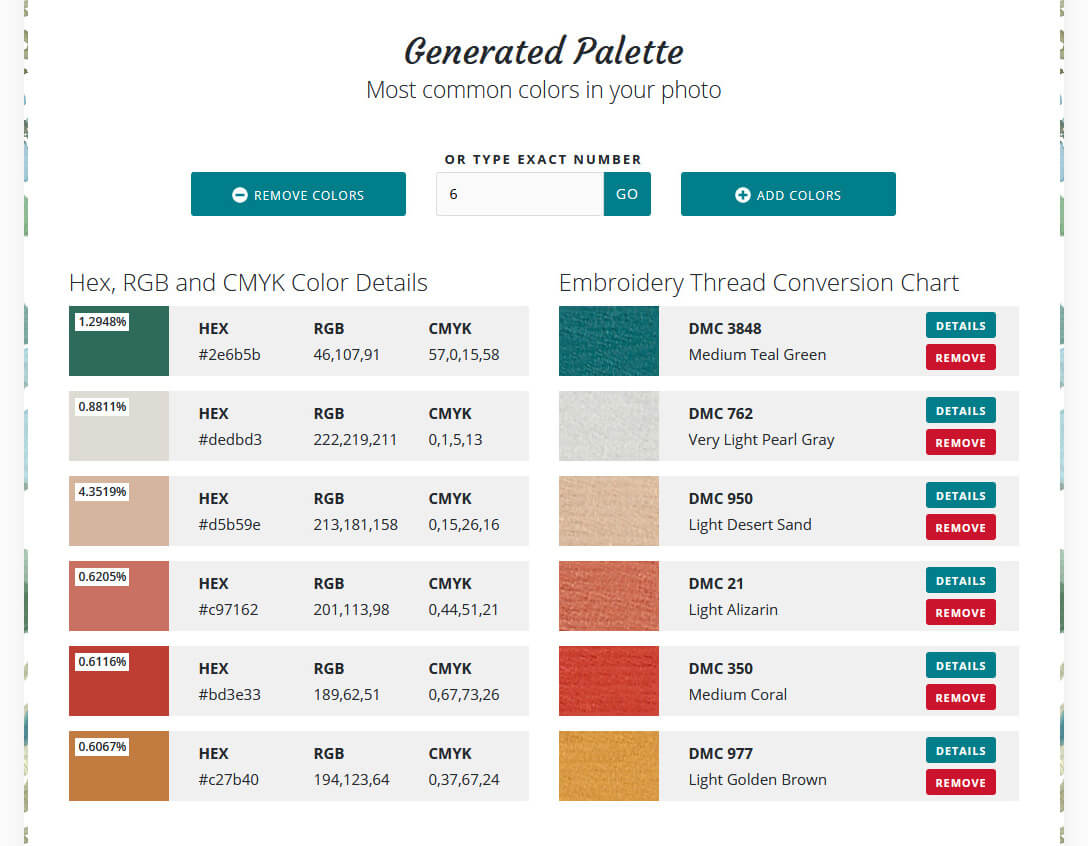 2. The personal palette
Fine-tune your thread list by manually picking colors from your photo.
The algorithm does a great job at selecting dominant colors from your image, but it might omit colors that are represented only in small areas on the photo. That's when the color picker comes in handy!
It gives you an easy solution for picking any color from your photo with the click of a mouse, and even provides a magnifying tool to help you zoom in on the exact pixel color you want.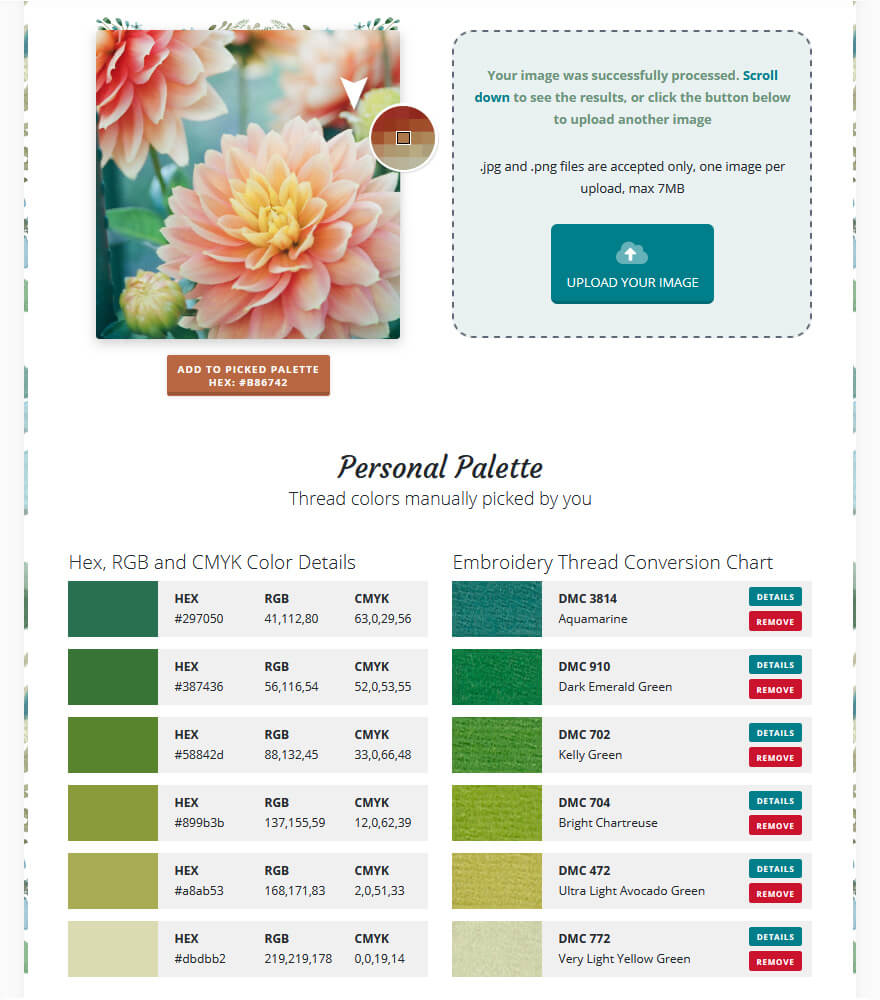 3. The fabric color matcher
Select a fabric color that brings your threads to life
Try out different fabric colors to see what works best for your threads. Choose a light, creamy background for an airy and bright feel, or a rich dark shade to make your colors pop.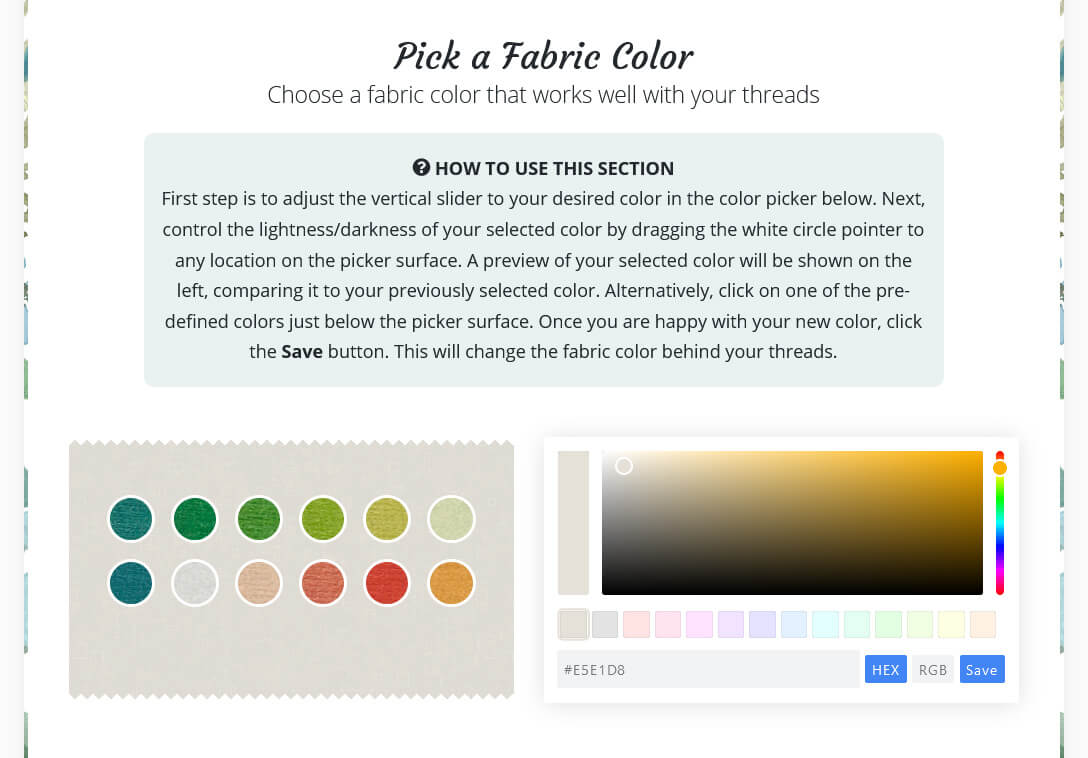 4. The palette exporter
Save your results for easy printing
With a simple click of a button you can export your colors and save your results in a PDF file. Print this PDF or save it to your phone, and remember to take it to the craft store on your next visit.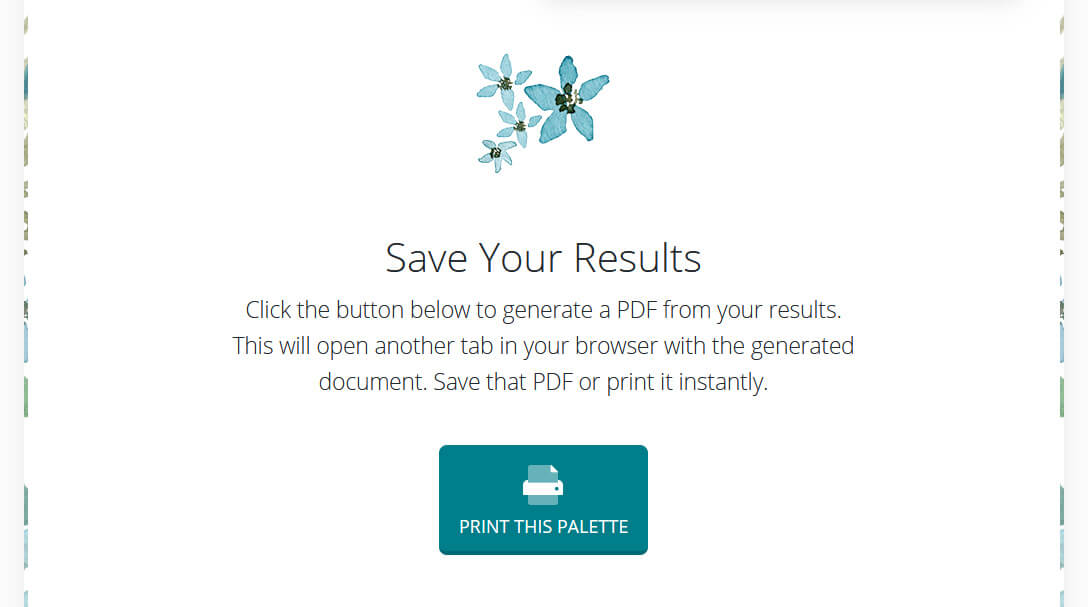 ---
Limitations
Your photo must be accurate
The Converter can not recognize or warn you if the image you uploaded is not optimal. For the best results, you need to team up with the algorithm and supply it with an image that accurately shows the colors of your subject.
Photos taken in dark spaces, blurry or low-resolution images can only produce sub-par results.
Thread colors are limited
Even though there are as many as 482 shades in DMC's six strand embroidery floss line of solid colors, I'm the first person to wish there were more! While the converter does an excellent job at finding the closest match to any color in a photo, there are cases where it can't produce an exact match, because there simply isn't a thread manufactured in that color.
The human eye can distinguish between approximately 10 million different colors, so narrowing those down to a mere 482 has to come with compromises. However, when you start using the converter you'll soon realize that those 482 shades actually cover 95% of the cases, with close alternatives for the rest.
---
Example results
Take a look at these palettes created by other stitchers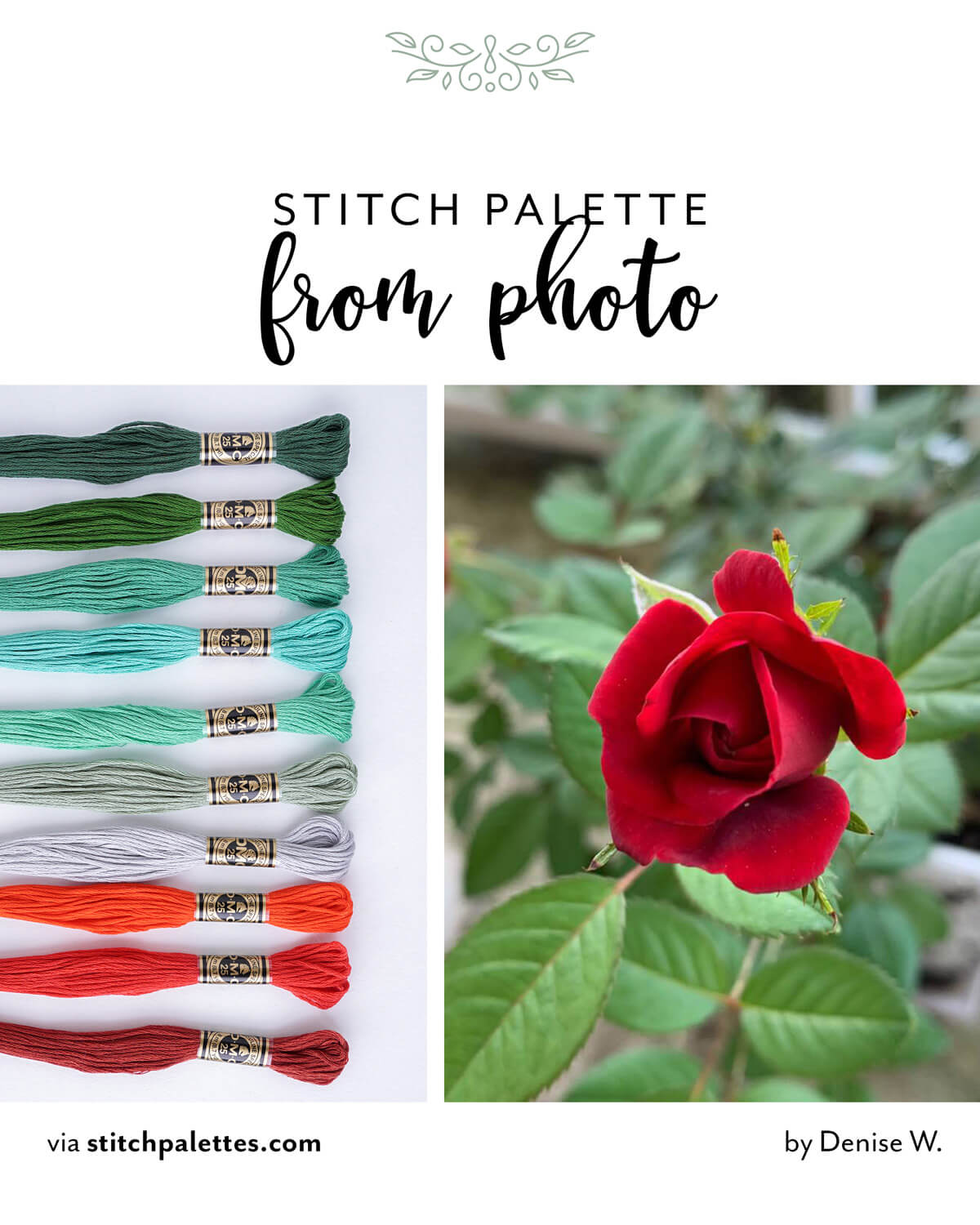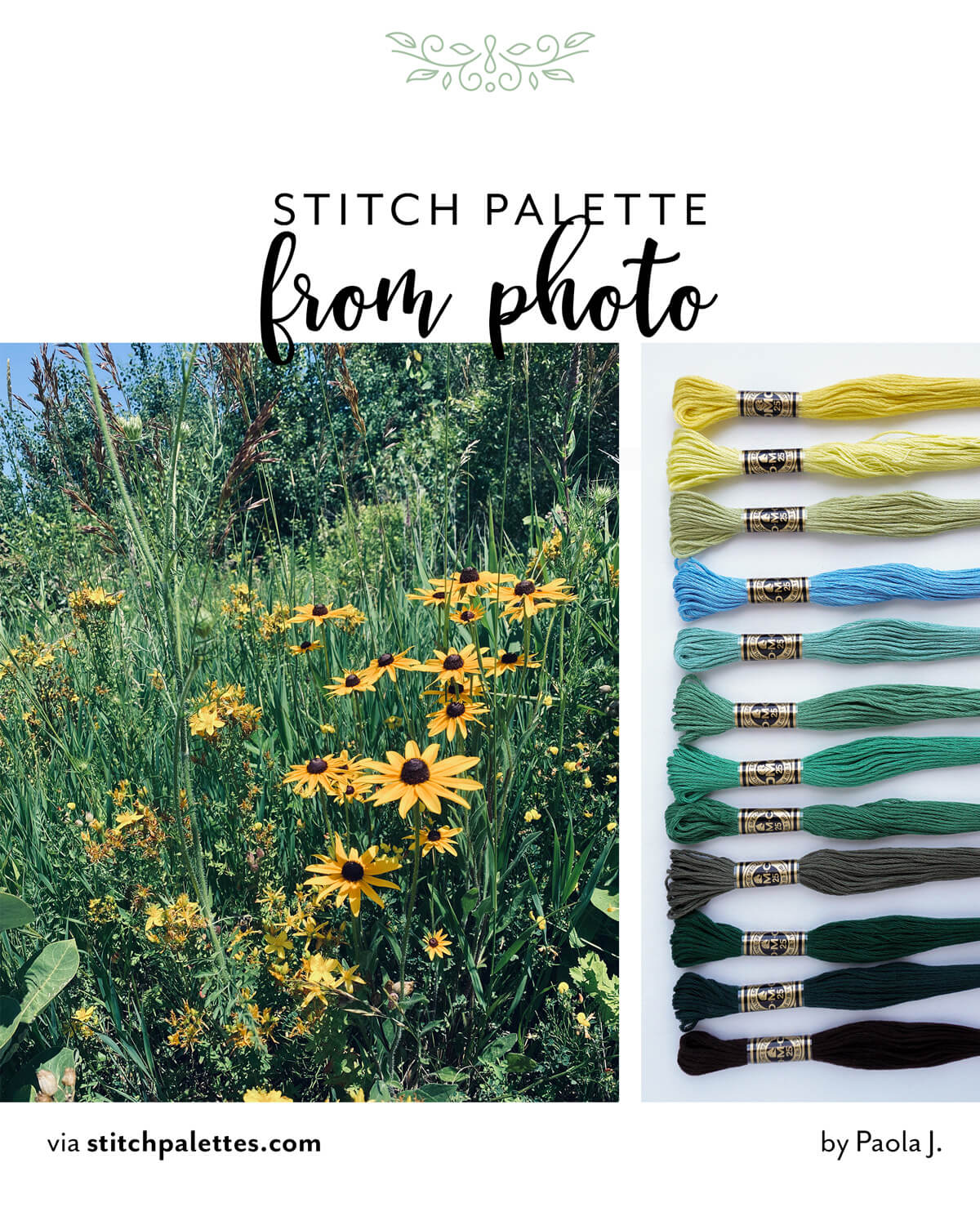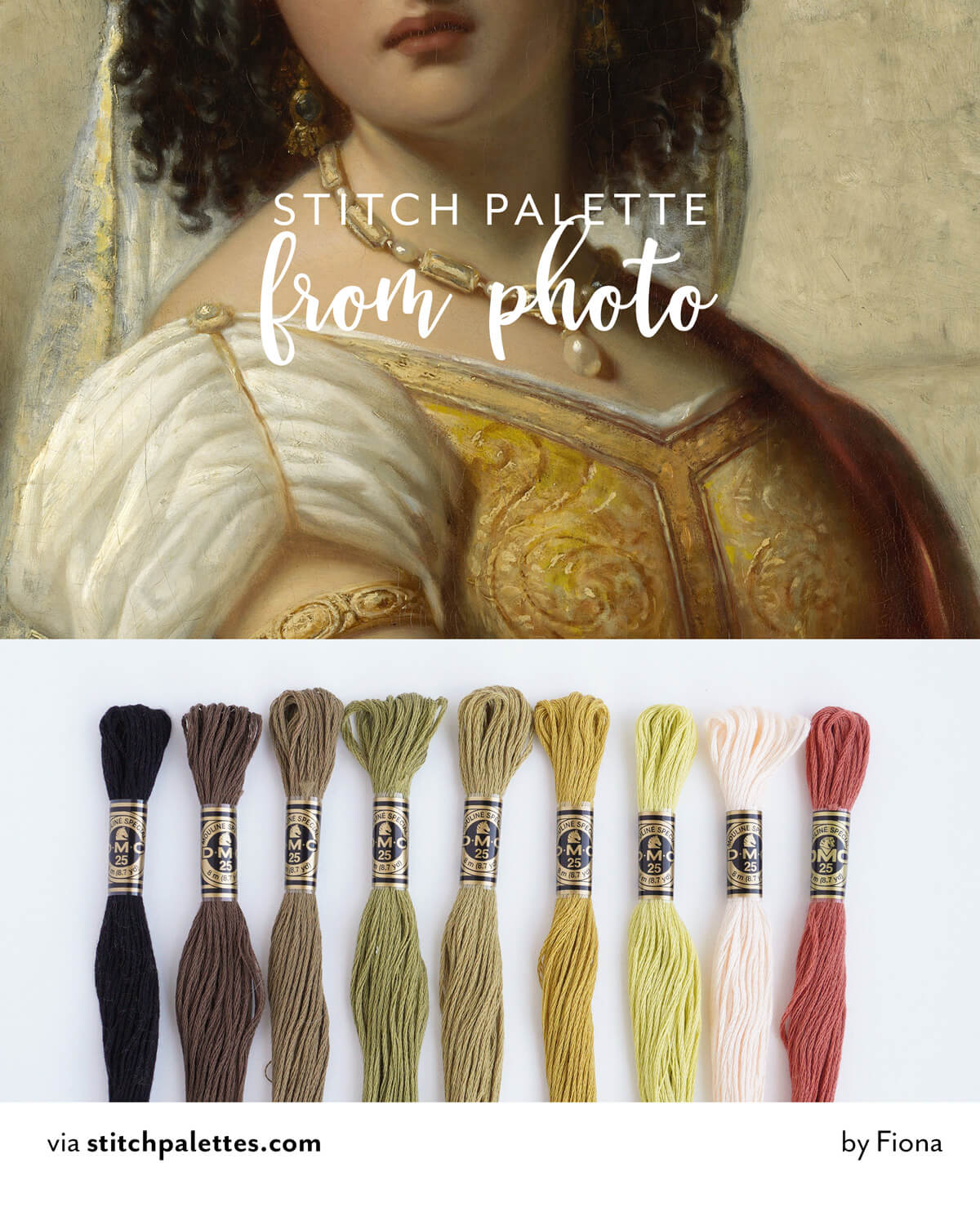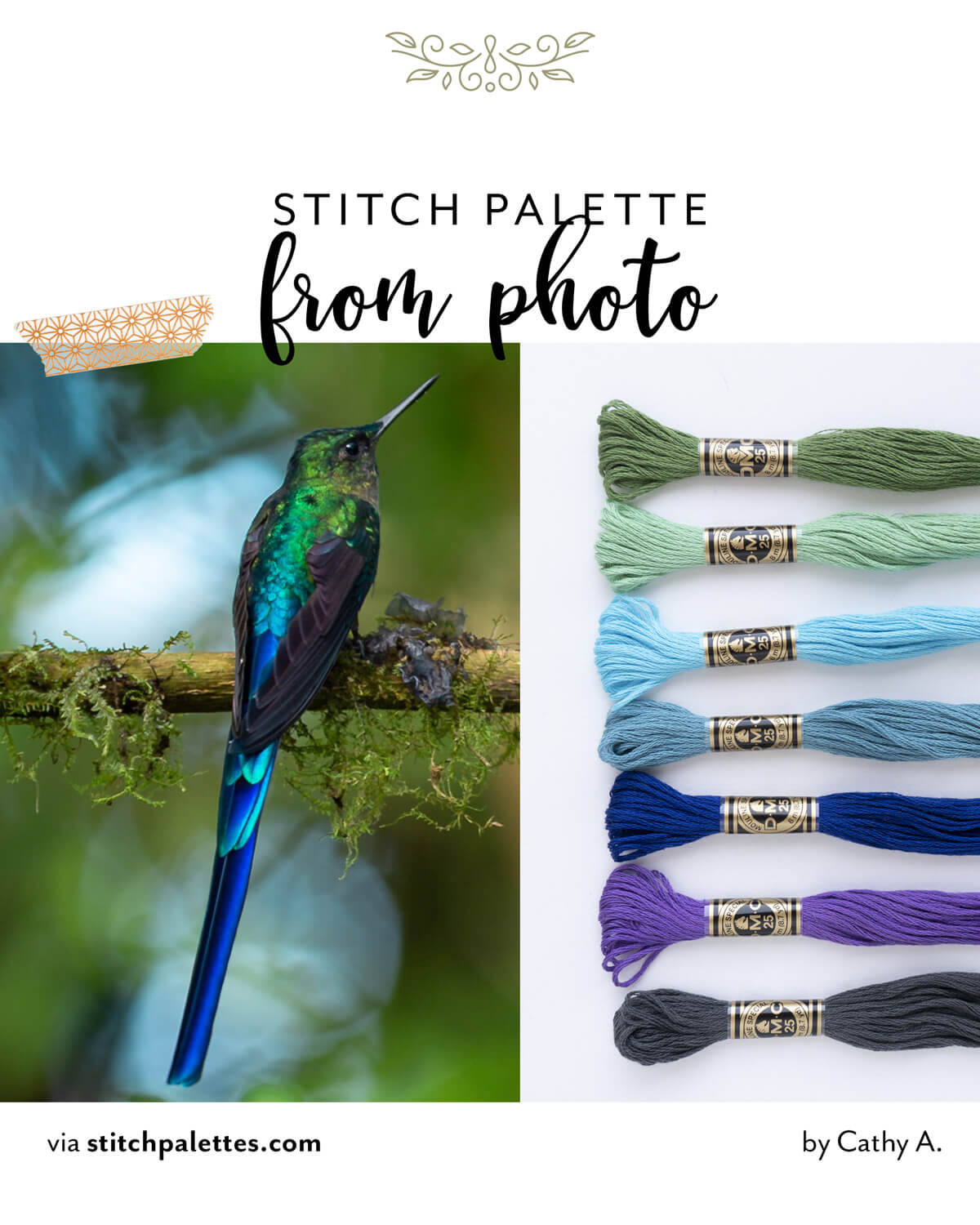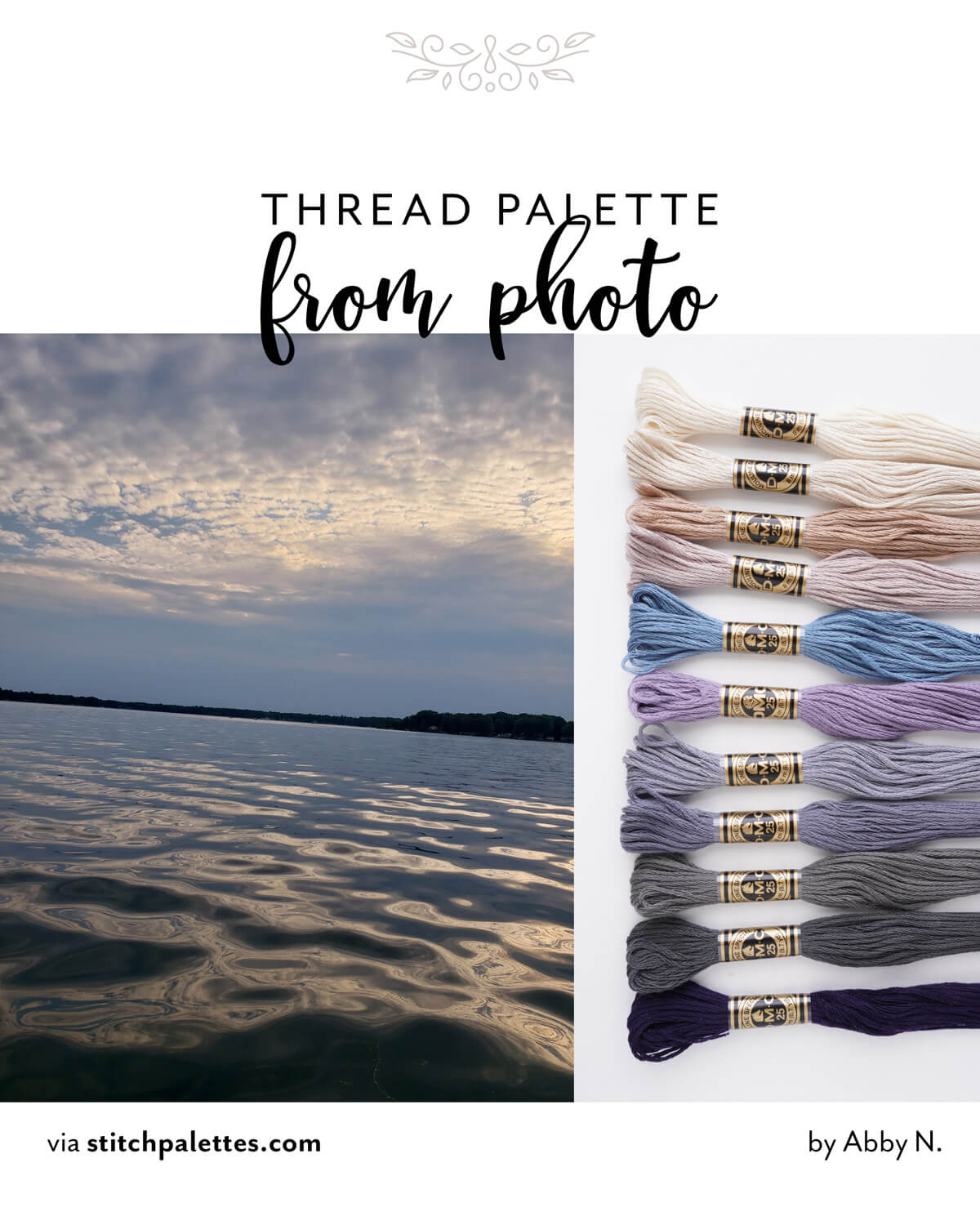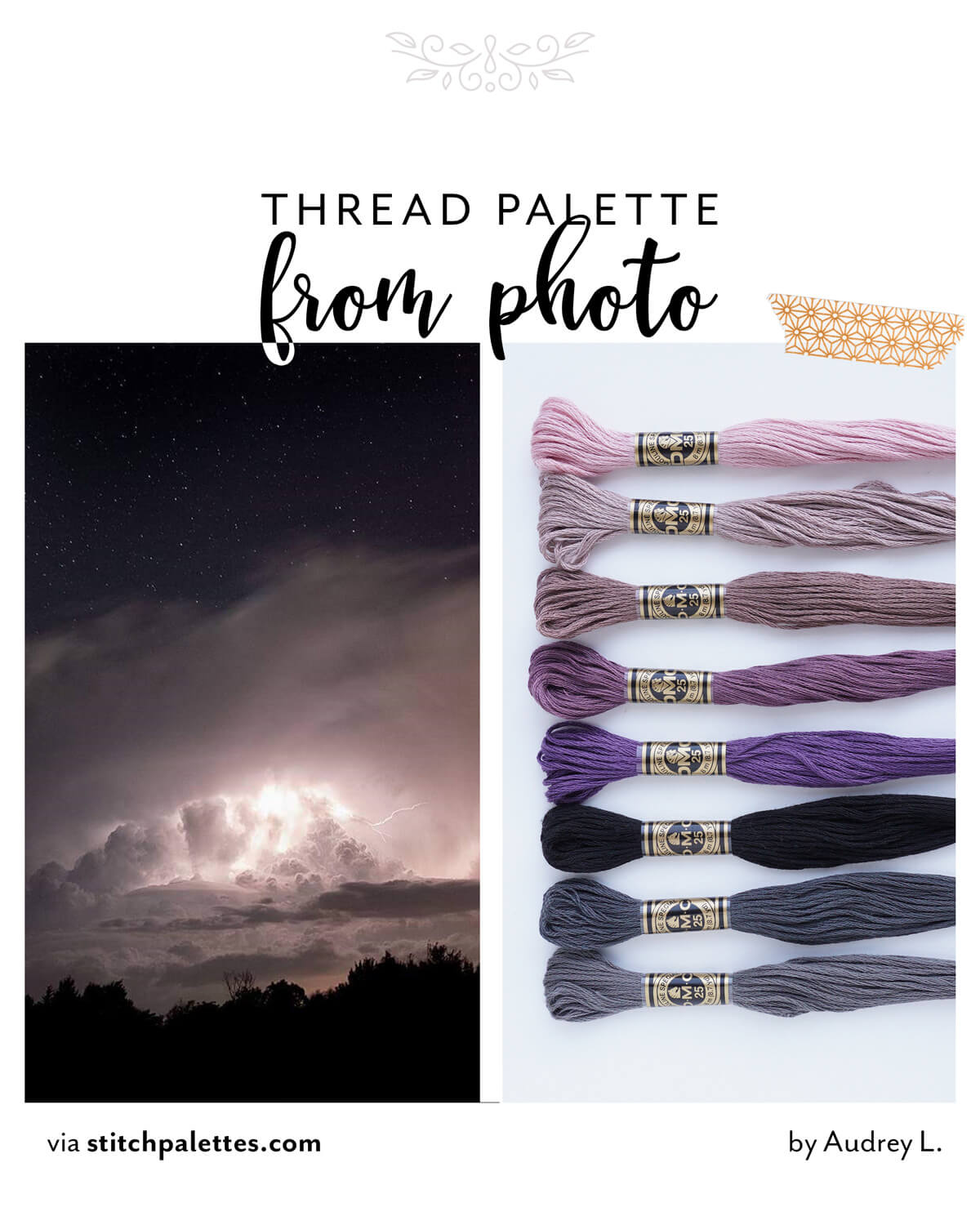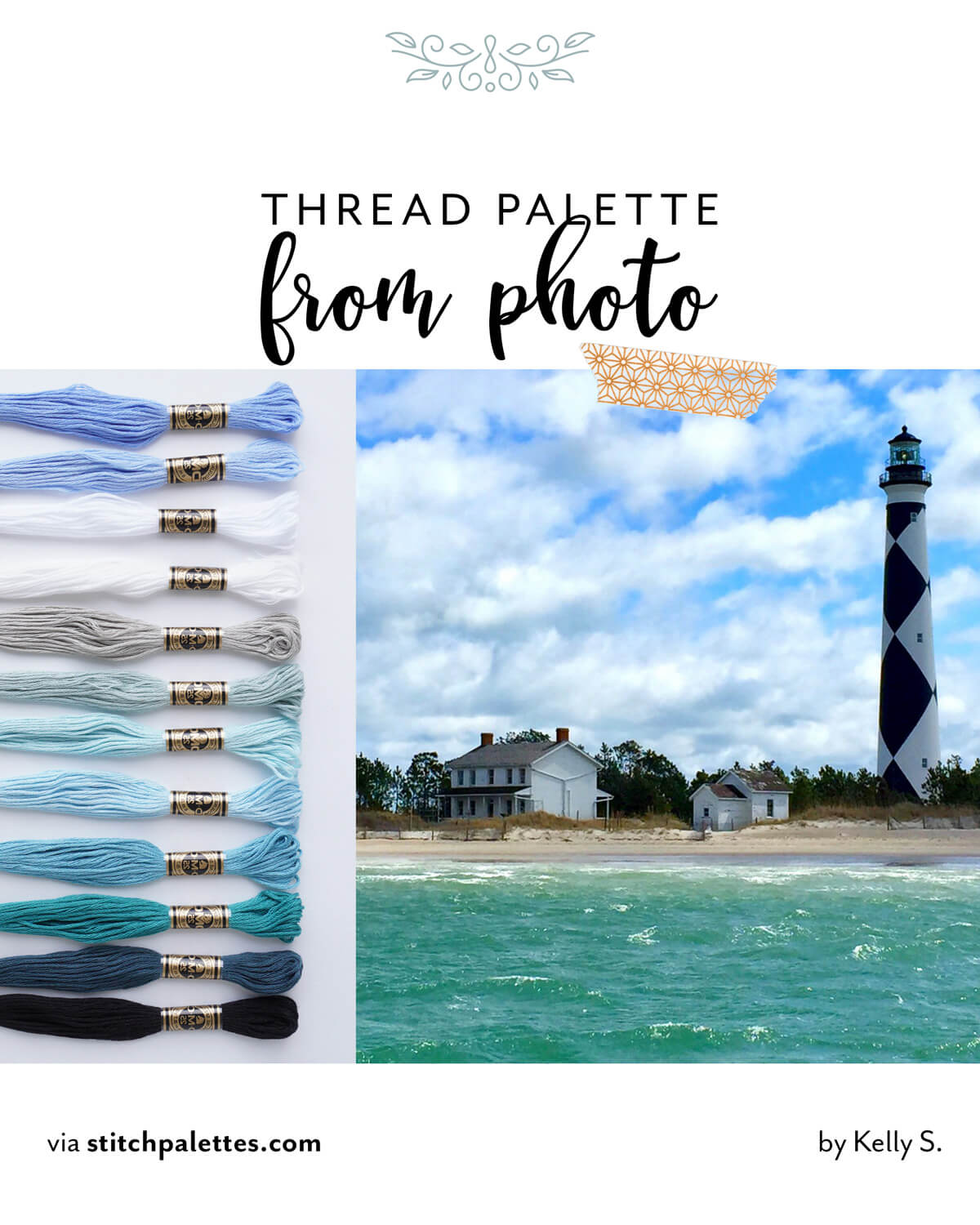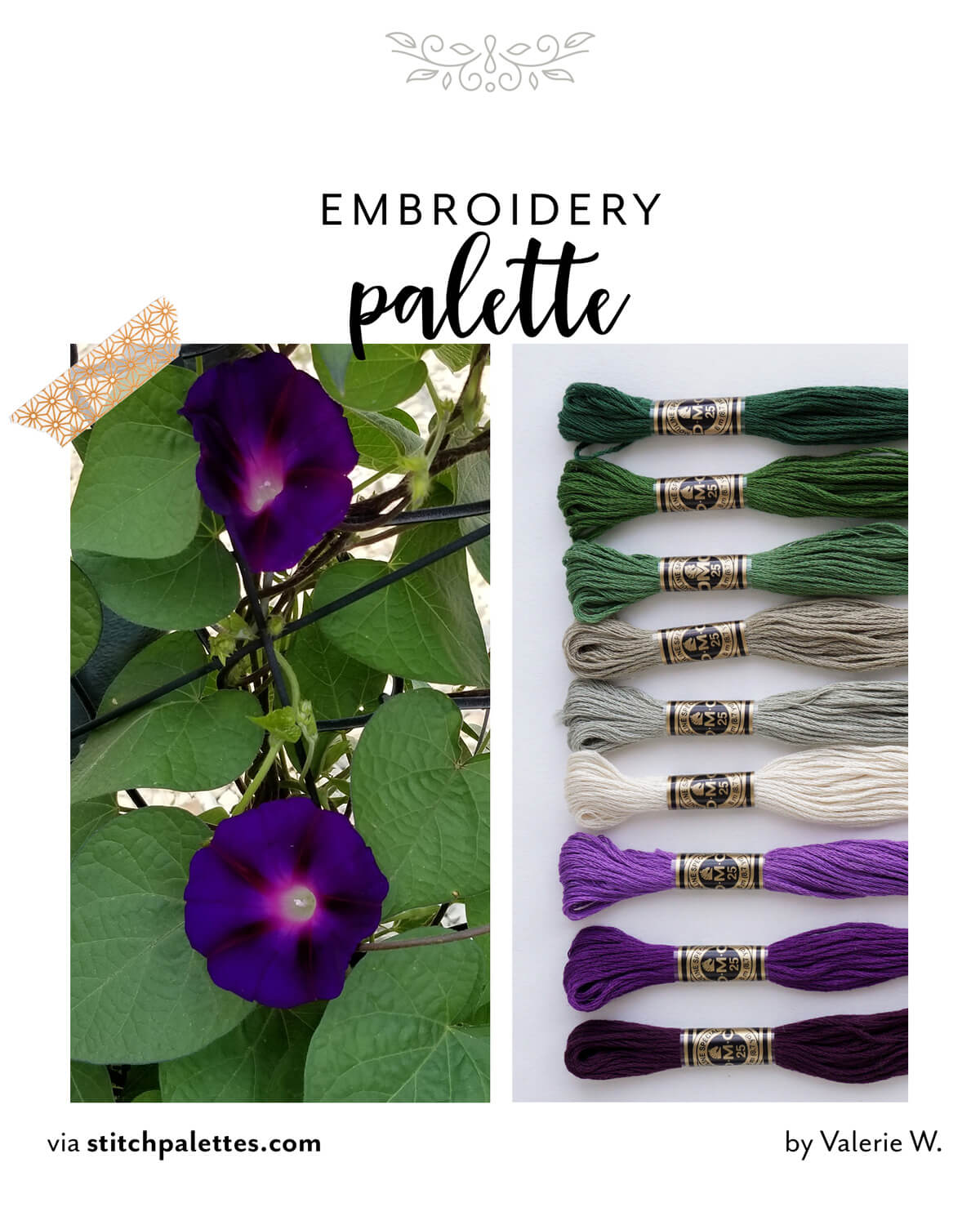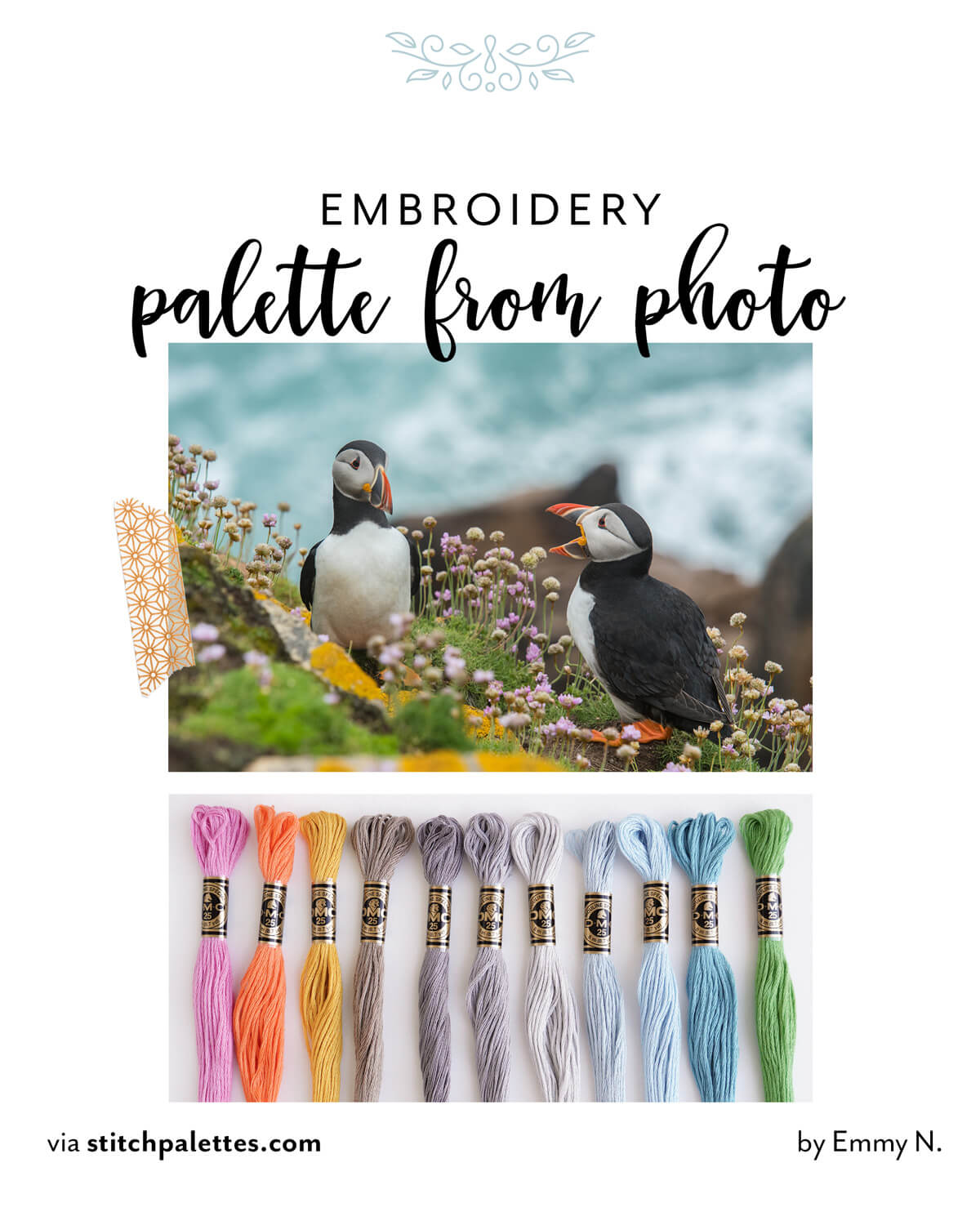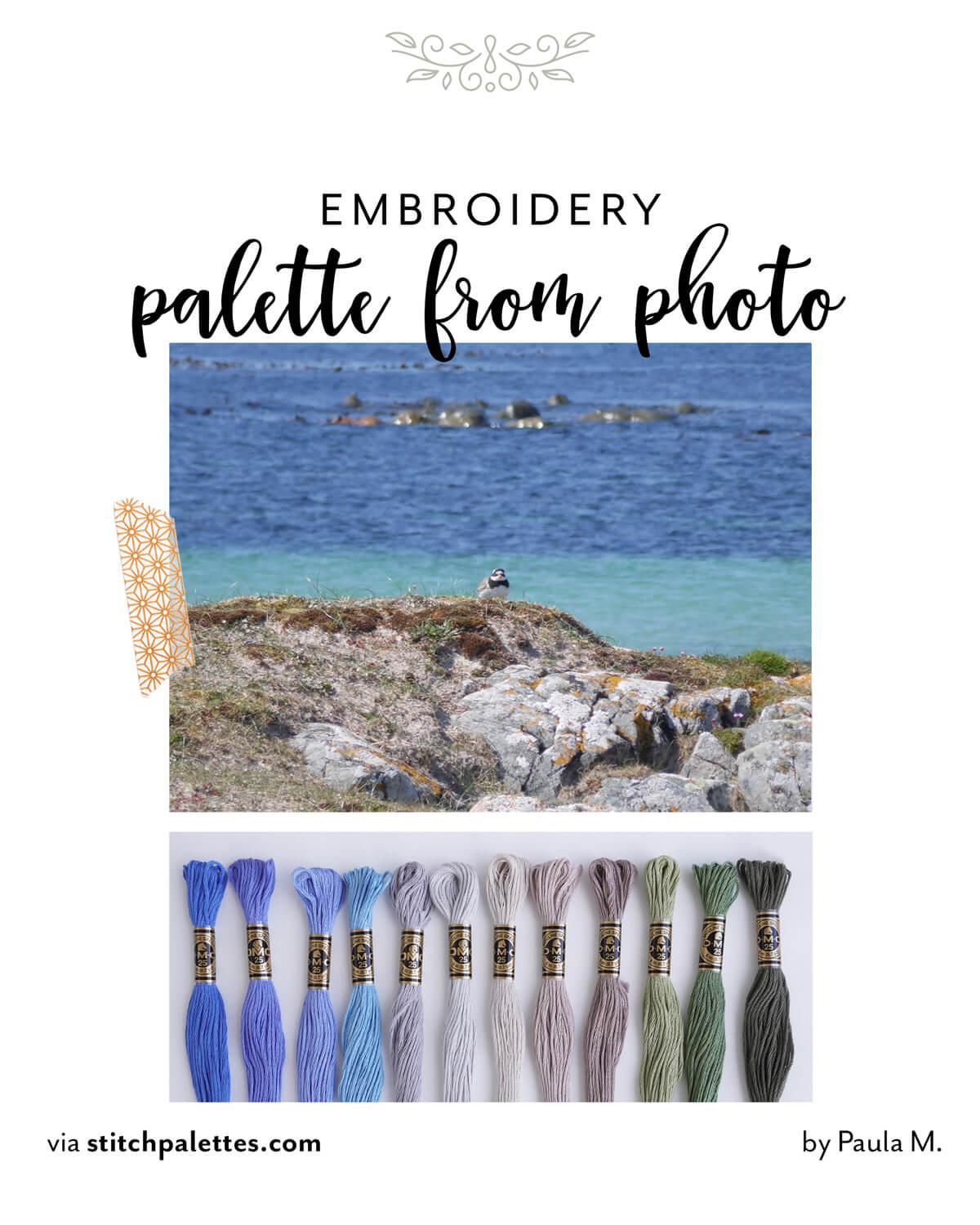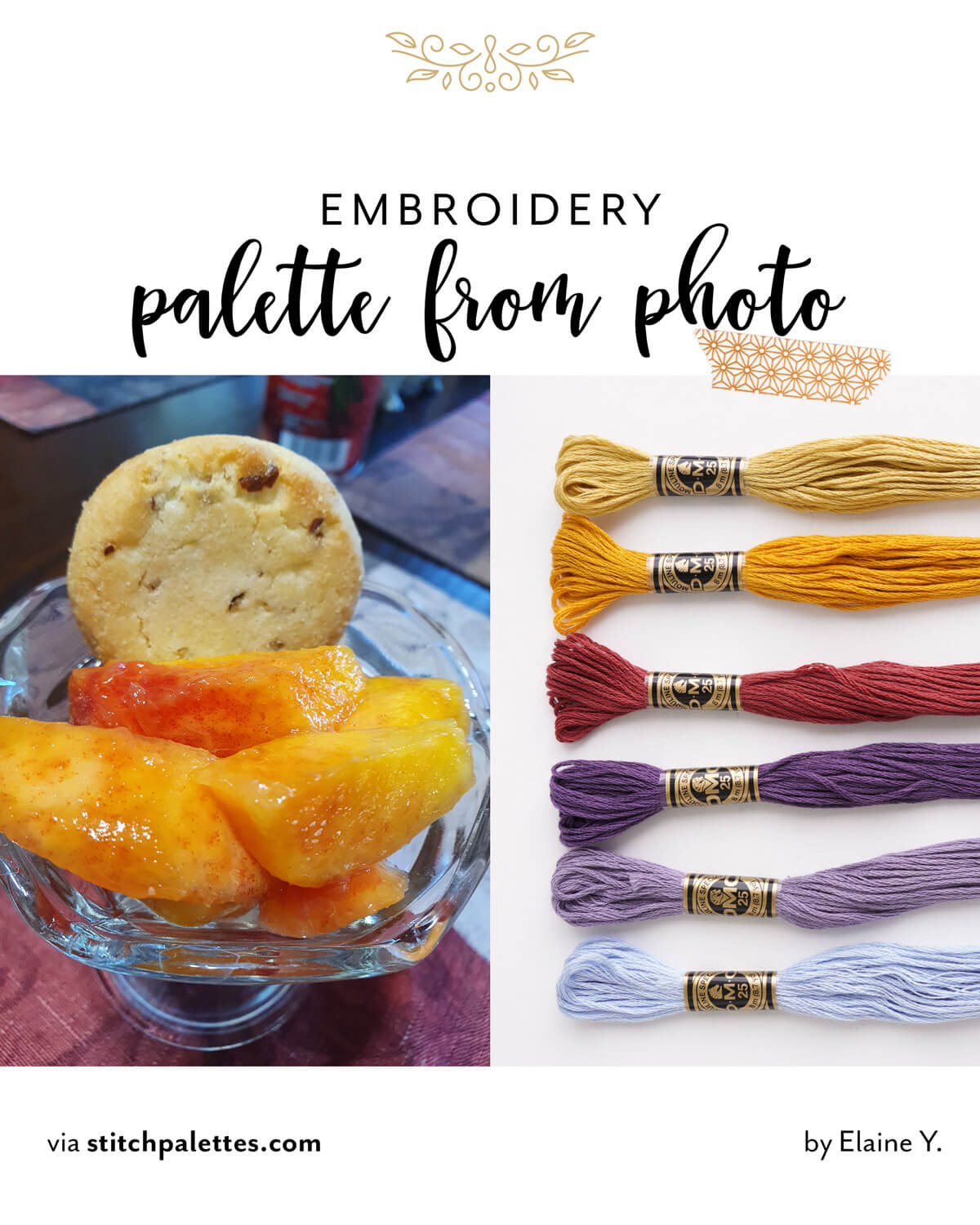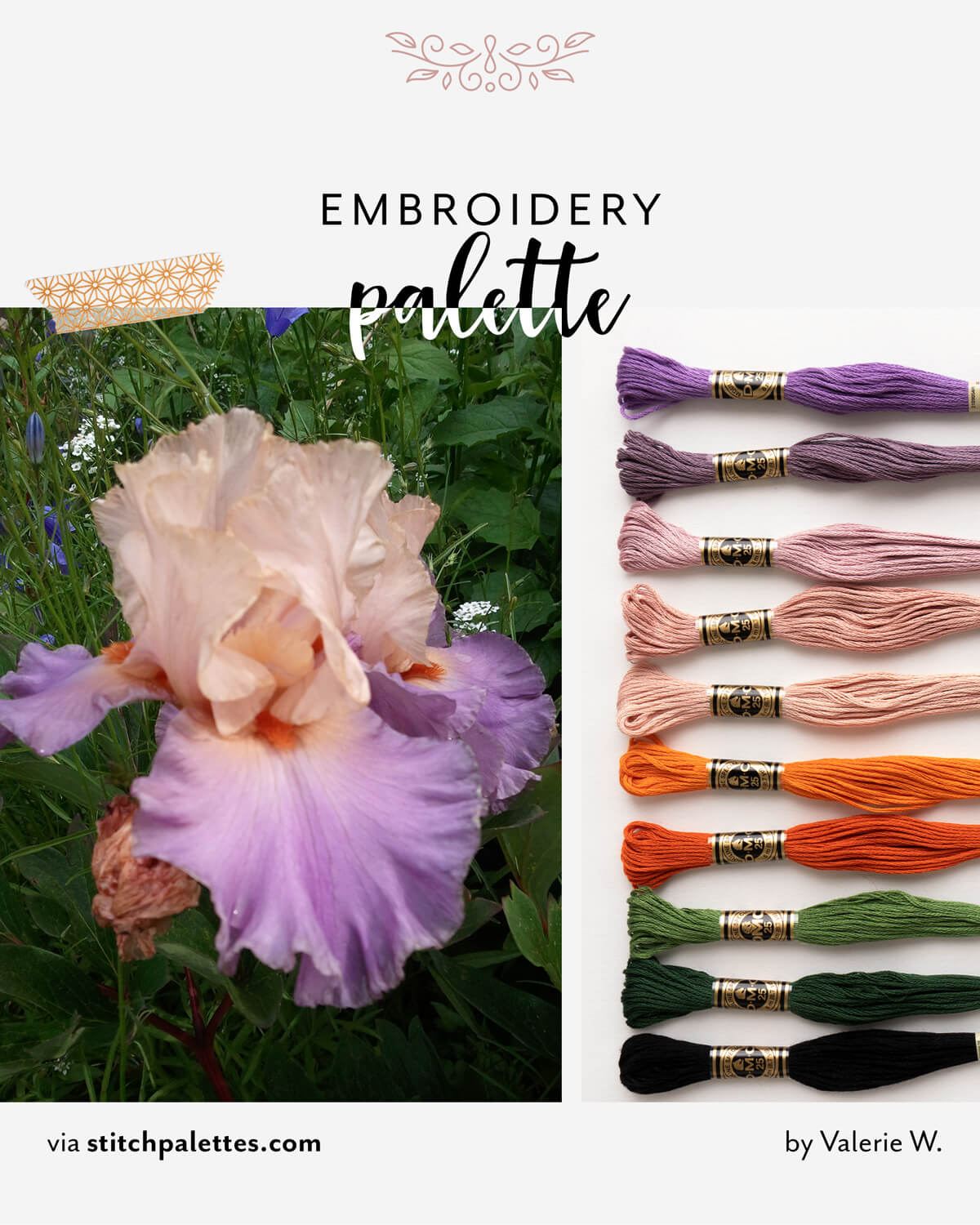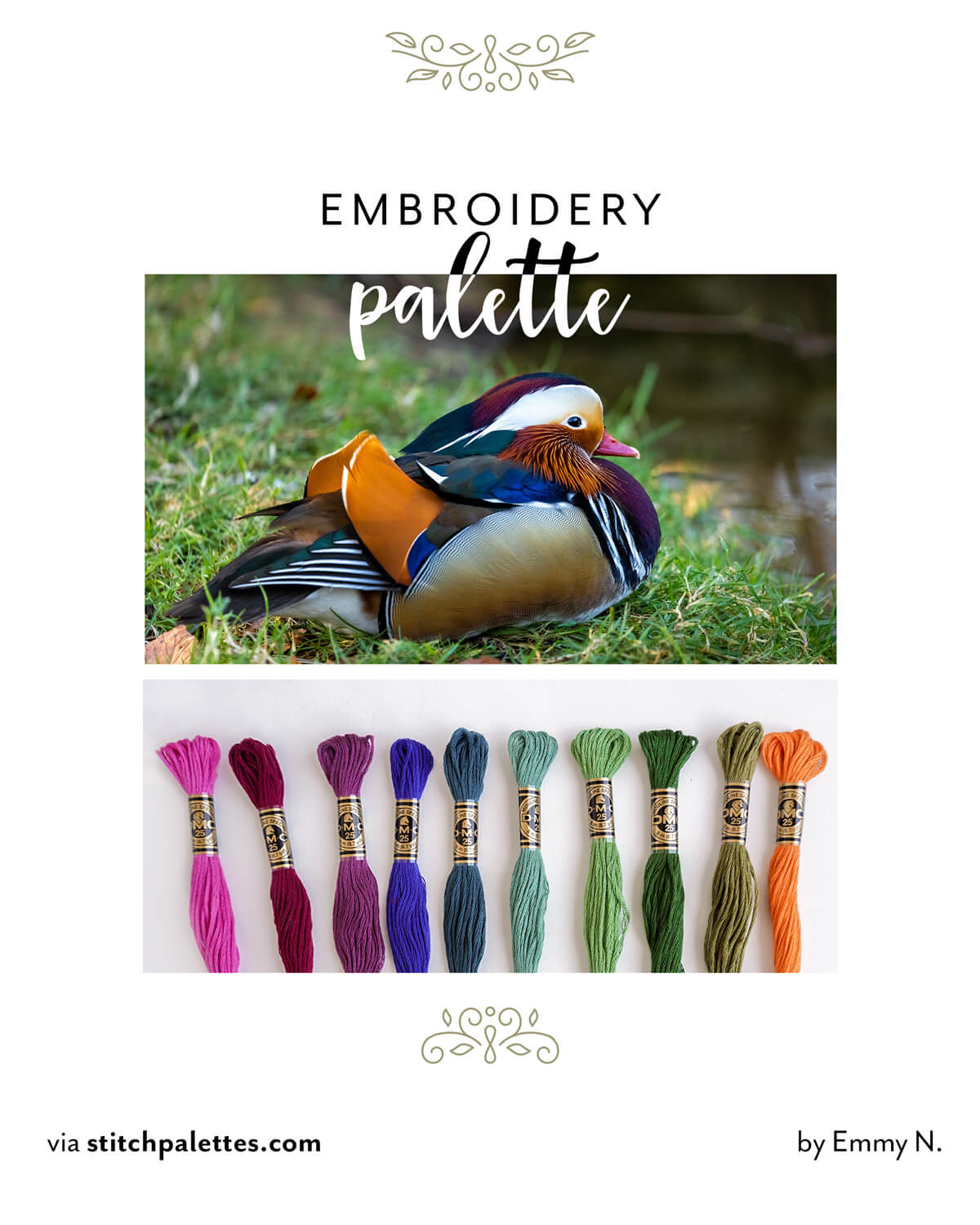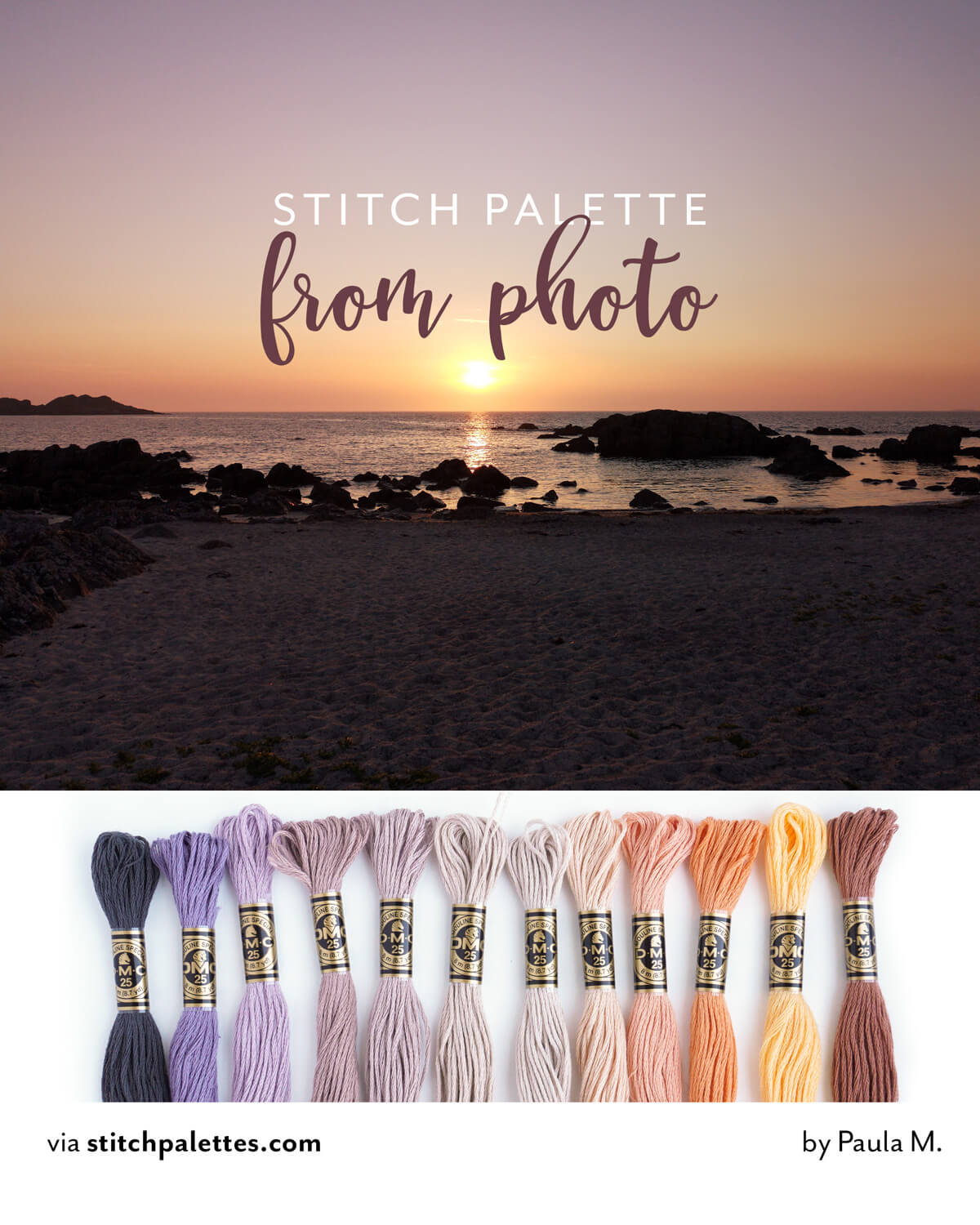 ---
What stitchers are saying
Happy users
Ever since I have discovered your Stitch Palettes, I feel much more confident when choosing thread colours for my various embroideries. I have always had difficulty especially with greens and yellows, and in the past have come home with shades of these colours that just don't work when I try them on the piece. With the Palettes, groups of colours that work together make it much easier to choose the shades that I need. Thank you again.

Judy O., Australia
I'm so pleased that a friend introduced me to your website. What an inspiration it's proved to be. I'm learning to look at colour in a different way and have more confidence to work with combinations that I would probably not have considered before. It's having an impact on the way I choose and use colours in embroidery and it's also improving my colour blending skills when preparing fibre for spinning. It's a great resource and one that I'll keep coming back to.

Krys P., United Kingdom
I am so happy that I discovered Stitch Palettes on Instagram. I use the palettes as a reference tool not only in my embroidery, but in my quilting projects as well. For my embroidery projects I so appreciate that the number of the DMC floss is included on the palette. It makes creating so much easier. For my quilting projects the palettes provide color inspiration when choosing fabrics to include in my quilt.

Leesa H., United States
I find Stitch Palettes to be a unique resource. Beautifully presented and inspiring. The palette examples offer immediate colour choice solutions but also the challenge of working with colour combinations maybe not previously considered. Definitely an additional tool of huge benefit to any crafter not just stitchers. Thank you for all your hard work - and sharing your amazing skill.

Ann S., United Kingdom
It is wonderful to find a site which identifies the colors in a picture and shows the stitchers how to choose different colors to choose from. It is better than the eye at seeing all the colors in a picture. Also by tagging the palette generator to DMC, it helps us who use different threads, to find a comparable color in another thread category. Thank you for doing this. I am sure it will improve my color choices.

MaryFrances K., United States
This really takes the guess work out of choosing colours that compliment each other. Instead of spending hours in the store trying to work out what threads went with what I was able to look through loads of beautiful photos for inspiration and get the colour codes from there, saved loads of time and made the prep and the actual embroidery a pleasure.

Katherine G., South Africa
---
Start turning your photos into elegant embroidery thread palettes today
The Photo to Palette Converter is available to all Stitch Palette subscribers holding a Monthly or Annual Membership. Choose your option to get instant access now.
---
Frequently asked questions
Do you offer any refunds?

Absolutely! Give the converter a try for a month and if you feel that it falls short of your expectations, simply email me and I'll issue a full refund.

Can I cancel my membership easily?

Yes! You have multiple ways of cancelling your subscription. You can easily do so by logging into your user account and editing your preferences anytime. If you chose PayPal as your recurring payment method, you can also cancel your membership from within your PayPal dashboard. And of course, you can always email me and I'll cancel it for you if you don't have time to do it yourself.

How many conversions can I make per month?

As many as you like! There is no restriction on how many times you can use the converter, have as much fun with it as your time allows!

What image formats are supported?

You can upload any .jpg, .jpeg or .png file to the converter and it will process it. HEIF or .webp images are not supported at this time. If you feel that this is a dealbreaker for you, please get in touch with me. If enough people request this feature, I'll build it into the converter.

Will this work on my phone or tablet?

The converter is fully responsive and works on most smartphones and tablets. If you have a newer iPhone, you might need to convert your photos to the above-mentioned formats first before uploading them to the converter.

Does it consume a lot of mobile data?

It can, so be careful. If you are on a metered connection, you might want to switch over to WI-FI instead. It all depends on the images you upload, but if those are high quality, they might come with a large file size, thus taking a toll on your data usage.
---
Secure payment and money-back guarantee
You're fully protected by your 30-Day Money Back Guarantee. If for any reason you're not delighted, just let me know and I'll issue a full refund.
In addition, the payment process is 100% secure. All payments are processed by Stripe or PayPal over a secure connection, which means none of your payment information will be accessed or stored by this website.
---
Stop the constant struggle of finding thread colors for your new embroidery projects
The Photo to Palette Converter is available to all Stitch Palette subscribers holding a Monthly or Annual Membership. Choose your option to get instant access now.
---
Have questions? I'd be more than happy to help!
---
---
Share this image